Goulash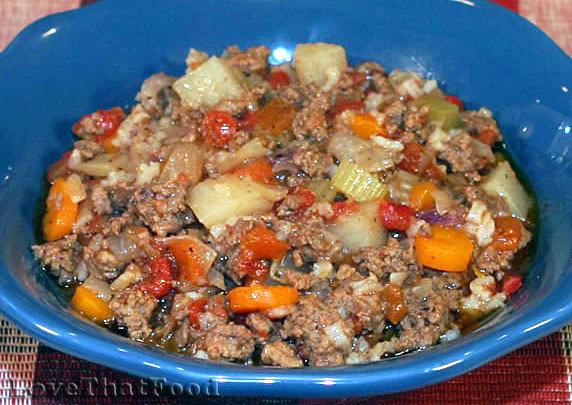 Tips:
May be served alone or over pasta.
Suggestion:
Delicious served with a side of
bread
.
Goulash originated as a Hungarian dish (often called "Hungarian Goulash"), but has become a well-known American dish. Goulash combines a mixture of ingredients that are simmered together, much like soup or stew. Some Goulash recipes
are made with an abundance of broth, while others are thick and moist with a modest amount of broth or juice. This quick and easy beef Goulash recipe produces the thicker version and is full of flavor. It is made with ground beef, rice, potatoes, carrots, onions, celery, tomatoes and shredded cabbage, producing a delicious and satisfying meal. This Goulash recipe can also be served over pasta if desired.
This is a quick and easy beef dish to whip up, and leaves only a few dishes to clean. It's a great dinner to make after a long day when you have little energy to cook. A serving of Garlic Bread or any other bread is wonderful with Goulash and works great for dipping. This is also a great dish to use as leftovers for lunch (or another quick dinner) the following day. Simply reheat in the microwave or on the stovetop and you've got a great hot meal in just minutes.
Ingredients
1 1/2 lbs. ground beef
1 cup chopped onion
1 cup cubed raw potatoes
1 cup sliced carrots
1/2 cup diced celery
1 cup shredded cabbage
2 1/2 cups diced tomatoes, fresh (skins removed) or canned
1/4 cup rice (any kind)
1 bay leaf
1/2 teaspoon thyme
1/4 teaspoon basil
2 teaspoons salt
1/8 teaspoon pepper
1 1/2 cups water
Directions
Cook ground beef and onion together in a large skillet until there is no pink color left in beef. Drain excess grease and/or liquid from skillet. Add potatoes, carrots, celery, cabbage and tomatoes and bring to a boil. Reduce heat to low. Add rice, bay leaf, thyme, basil, salt and water and briefly stir to blend. Reduce heat and cover. Simmer for 1 hour. Serve in bowls.
Other recipes you might like: