Goulash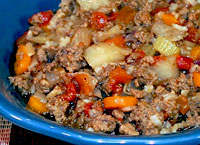 Tips:
May be served alone or over pasta.
Suggestion:
Delicious served with a side of
bread
.
Ingredients
1 1/2 lbs. ground beef
1 cup chopped onion
1 cup cubed raw potatoes
1 cup sliced carrots
1/2 cup diced celery
1 cup shredded cabbage
2 1/2 cups diced tomatoes, fresh (skins removed) or canned
1/4 cup rice (any kind)
1 bay leaf
1/2 teaspoon thyme
1/4 teaspoon basil
2 teaspoons salt
1/8 teaspoon pepper
1 1/2 cups water
Directions
Cook ground beef and onion together in a large skillet until there is no pink color left in beef. Drain excess grease and/or liquid from skillet. Add potatoes, carrots, celery, cabbage and tomatoes and bring to a boil. Reduce heat to low. Add rice, bay leaf, thyme, basil, salt and water and briefly stir to blend. Reduce heat and cover. Simmer for 1 hour. Serve in bowls.