Boeuf Bourguignonne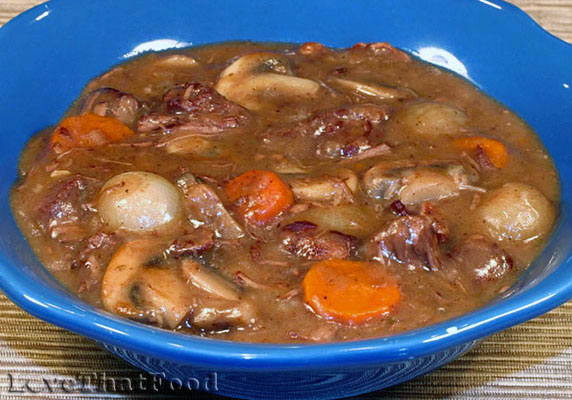 Tips:
Peeling skins off small onions the day before and storing in the refrigerator will save you time when preparing this dish the next day.
Boeuf Bourguignonne (also spelled Boeuf Bourguignon, Beef Bourguinonne and Beef Bourguignon) is a French dish that translated to English means Beef Burgundy. Boeuf Bourguignonne is a
beef stew made with cubed chunks of tender beef, and is flavored with red wine and beef broth. Traditionally, chopped onions, pearl onions (small whole onions) and mushrooms are added along with some herb seasonings. This Boeuf Bourguinonne recipe features these traditional ingredients, as well as crisp-cooked bacon pieces and sliced carrots for added flavor and color.
This Boeuf Bourguinonne recipe uses a slow cooker method, simmering the stew for 4-6 hours. You can also cook this stew on your stovetop over a very low heat (though the slow cooker method is recommended and is much easier). This French beef stew is full of flavor, with the elegance offered by the red wine. Any basic bread, biscuit, rolls, etc. are delicious served with this stew (for dipping and mopping), and will help you devour every last drop!
Ingredients
6 slices bacon, cut into 1 1/2-inch-long pieces
3 lbs. lean beef chuck or rump, cubed into large bite-size pieces
1 large carrot, sliced into 1/4-inch-thick pieces
1 medium onion, chopped
1/2 cup flour, divided
1 lb. small whole pearl onions (white or yellow)
1 bay leaf
2 14.5 oz. cans beef broth
1 1/2 cups dry red wine
1 tablespoon tomato paste
2 cloves garlic, minced
1 teaspoon salt
1/2 teaspoon dried crumbled thyme
1/4 teaspoons pepper
1 lb. mushrooms, cleaned and sliced
2 tablespoons butter
1/2 cup water
Directions
Cook bacon pieces in skillet until crisp. Remove bacon pieces from pan and place on paper towels to drain, reserving bacon grease in skillet. Brown beef on medium-high heat in bacon drippings (about 10 minutes). Remove beef cubes, again reserving juices in skillet. Place carrot and onion in skillet and lightly brown over medium heat (5-10 minutes). Place browned carrot and onion in slow cooker and stir in 1/4 cup of the flour. Add beef cubes, bacon pieces, small onions and bay leaf. (Mushrooms will be added later.)

In a small mixing bowl, whisk together broth, wine, tomato paste, garlic, salt, thyme and pepper. Pour over beef, onions and carrot in slow cooker. Cover and cook on low for 4-6 hours. When nearly ready to serve, heat butter in a large skillet and add mushroom slices. Sauté until tender, then add to slow cooker and briefly stir to blend. Blend 1/4 cup of remaining flour with the 1/2 cup of water and stir into slow cooker ingredients. Simmer until thickened then serve.
Other recipes you might like: