Broccoli Cheese Soup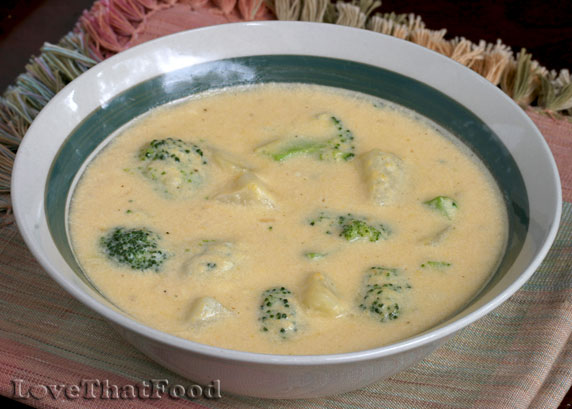 Cook Time:
About 45 minutes
Tips:
Potatoes are optional. Potatoes may be cooked a day or two before making soup, then refrigerated (with skins on) until ready to use. 2 cups cauliflower florets may be used instead of potatoes if desired. Simply cook cauliflower with broccoli florets.
Soups are always a great idea for lunch or dinner because they can contain endless combinations of ingredients, are almost always very easy to prepare and are the perfect solution for quick leftover meals.
This Broccoli Cheese Soup recipe can be made with or without potatoes, or the potatoes can be substituted with cooked cauliflower florets - both will nicely compliment the broccoli florets.
If you do make this soup with potatoes (which is a great choice, by the way), you can cook the potatoes in advance, then store them in the fridge until you're ready to make the soup - this will reduce the cooking time for the soup by about 30 minutes. When cooking the potatoes, simply boil them with the skins on, then drain and refrigerate them in a plastic bag. When you're ready to make the soup, simply peel and cut the potatoes into bite-size chunks (this method will also allow you to peel the potatoes without dealing with the heat).
Though this Broccoli Cheese Soup calls for some canned evaporated milk, if you already have all the other ingredients and would rather skip a trip to the store, you can use fresh milk instead of the evaporated as well, though to produce the best consistency, low-fat or non-fat milk is recommended.
As with most soups, Broccoli Cheese Soup tastes extra fabulous topped with some
croutons
or a side of
bread
, such as
garlic bread
.
Ingredients
2 cups bite-size broccoli florets (about 1/2 lb.)
1/2 to 1 lb. potatoes
2 tablespoons minced onion
1/4 cup (1/2 stick) butter
3 tablespoons flour
2 12-oz. cans evaporated milk
4 cups low-fat or fat-free milk
3 1/4 cups shredded mild or sharp cheddar cheese
salt and pepper to taste
Directions
Cook potatoes with skins on in gentle boiling water until tender (30-40 minutes), piercing with tines of a fork to test doneness. Allow potatoes to slightly cool, then peel and cut into bite-size chunks. (Alternatively, potatoes may be cooked in advance then refrigerated in their skins until you're ready to make the soup, at which time simply peel and cut into bite-size pieces.) Steam broccoli until tender yet still firm (about 5 minutes - do not over-cook!). Set potato chunks and broccoli florets aside.
Cook onion in butter until tender (about 5 minutes), stirring frequently, being careful to not brown. Sprinkle flour over onions and stir until fully blended. Stir in milks and cook over medium heat until smooth and slightly thickened, stirring frequently. Add cheese, broccoli florets and potatoes, then season to taste with salt and pepper. Continue to stir until cheese is melted and soup is heated through, being careful to not bring to a boil. If desired, top with
croutons
or a side of
bread
, such as
garlic bread
.
Other recipes you might like: