Creamy Irish Vegetable Soup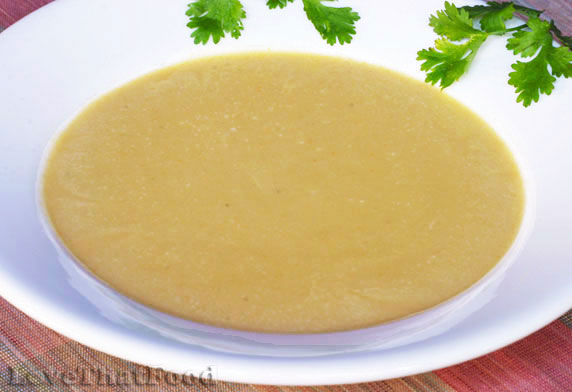 Tips:
If you're watching calories or prefer to make this soup without dairy, the heavy cream can be reduced to desired amount or completely omitted.
Creamy Irish Vegetable Soup is one of the easiest soups you'll ever make, and delivers full and vibrant flavor with wonderful texture. Though this soup might have a
similar appearance to split pea soup, no peas are used with this soup recipe. This Irish soup is made with carrots, celery, potato, onion and fresh cilantro, all which are simmered in chicken broth for just 30 minutes. All the tenderized vegetables and the broth are then pureed in a blender or food processor to a smooth consistency, then returned to the soup pot and combined with some heavy cream. (Tip: if you're watching calories or prefer to make your soup without dairy, the cream can be reduced or completely omitted, and the soup will still have full, fabulous flavor). If small bits of vegetables still remain in the soup after pureeing, you can opt to strain the soup to make it flawlessly smooth or simply leave the bits of vegetables in the soup for subtle added texture. Both guarantee delicious results!
Ingredients
3 carrots, peeled and chopped
1/2 cup chopped celery
1/2 cup chopped onion
1 potato, peeled and chopped
1 handful fresh cilantro leaves
4 cups chicken broth (or stock)
1/2 cup heavy whipping cream (or to taste)
Directions
In a large soup pot, combine the carrots, celery, onion, potato and cilantro leaves. Add broth to the vegetables and bring to a boil over medium-high heat. Immediately reduce heat to low, then cover and simmer for 30-40 minutes, or until vegetables are tender.
Pour one-half of the soup into a blender or food processor and blend until fully pureed. (Note: If you're not sure if the blender or food processor is heat-proof, allow soup to cool before pureeing, then reheat after returning to soup pot. If using a blender, cover the top with a towel while blending.) Pour pureed soup into a heat-proof bowl or another soup pot or saucepan. Pour remaining soup in soup pot into blender or food processor and puree until smooth.
Return all of pureed soup into original soup pot and turn up heat to medium. Stir in cream, then cook for 2 minutes longer to heat through. Serve. Garnish with chopped fresh cilantro,
Croutons
and/or small soup crackers if desired.
Other recipes you might like: