Potato Cheese Soup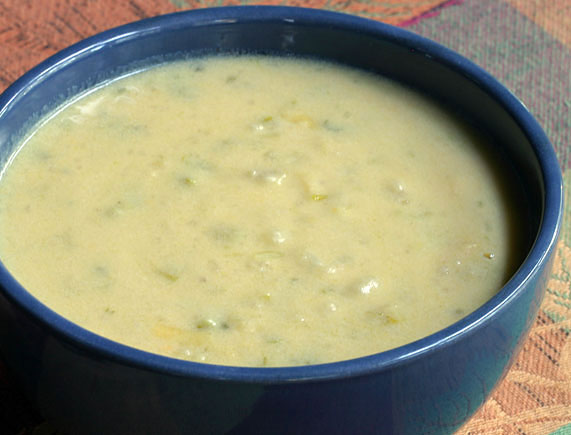 Tips:
If soup becomes too thick, stir in small amounts of milk (any fat content) until you reach desired consistency).
This Potato Cheese Soup recipe is made with hand-mashed potatoes, cheddar cheese, half and half, sour cream, leeks and green onions. The flavor is full and satisfying, and the texture, though a creamy-style (without potato chunks), has the unmistakable
hand-mashing technique (rather than using a
hand-mixer)
. texture of potatoes created by the Potato Cheese Soup would be delicious made as potato soup (without the cheese), which is a great indicator of the amazing flavor this soup has with the addition of a healthy dose of cheese. This soup can be made with any type of potato you favor, such as Russet (used in the soup shown in photo), golden and/or red potatoes. The type of cheddar cheese can vary as well, including mild, sharp, extra sharp, New York, etc. This soup is of course fabulous hot off the stove, but is also perfect for making in advance and storing in the refrigerator for serving later. The soup will likely thicken while sitting, but is easily thinned out by stirring in small amounts of milk while reheating until you reach desired consistency. To add the perfect final touch, top this soup with croutons (see Croutons for an easy homemade recipe).
Ingredients
6 potatoes
2 tablespoons butter
2 leeks, diced
4 green onions, diced
2 1/2 tablespoons flour (2 tablespoons plus 1 1/2 teaspoons)
3 tablespoons butter, melted
4 10 1/2-oz. cans chicken broth (or 5 1/4 cups)
3/4 cup potato water (saved from boiling potatoes)
8 oz. sour cream (1 cup)
1 1/4 cups half and half
3/4 teaspoon salt (or to taste)
1/4 teaspoon white pepper (or to taste)
3 1/4 cups shredded cheddar cheese
Directions
Peel potatoes then cut into thirds. Fill a large saucepan with enough water to cover potatoes and bring to a boil. Place potatoes in boiling water and bring to boiling again. Once boiling, reduce heat to a gentle boil and cook uncovered for 25-30 minutes or just until potatoes are able to be pierced with a fork. Drain, saving 3/4 cup of the potato water. Set potatoes aside.

Melt 2 tablespoons butter in a large soup pot. Add leeks and onions and cook on low heat just until tender (do not brown) - about 3-4 minutes. In a small bowl, whisk flour with the 3 tablespoons melted butter, forming a roux (a smooth paste). Add chicken broth to leeks and onions in soup pot, then stir in flour and butter mixture and whisk until thoroughly blended.

Place cooked potatoes in a bowl and mash manually with a potato masher or fork (do not use an electric mixer). Add potatoes to soup pot, then add potato water and stir to combine. Bring to a boil, then immediately reduce to low and simmer for 10 minutes. Stir in sour cream, half and half, cheese and salt and pepper until thoroughly combined. Heat until cheese has melted, being careful not to boil. Serve.
Other recipes you might like: