Roasted Potato and Garlic Soup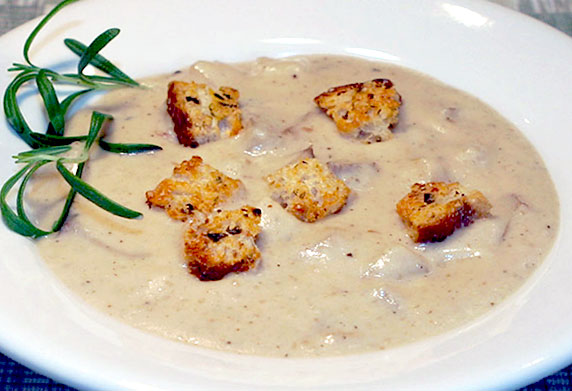 Yield:
4 servings or about 5 cups
Tips:
See "Alternatives" if you prefer no potato skins and/or onions in your soup.
Potatoes, garlic and onions blend beautifully together in this Roasted Potato & Garlic Soup. The potatoes are actually first roasted in the oven with the garlic and onion, then some of the potatoes and onions pureed along with the garlic,
then mixed with the remaining roasted potatoes. This soup is creamy and delicious, and very satisfying. It's also very easy to make.
The photo above shows this soup garnished with homemade croutons, but you can also simply serve it with some garlic bread. The photo also shows this soup made with the skins from the red potatoes left on, though you can also peel them if you prefer (see recipe).
Potato soup can be served as a main course, adding sides of a salad and some bread, or it can be served as a side itself to a main course. Creamy potato soups are commonly enjoyed by kids as well as adults, because although they are simple with only one or two ingredients, they are packed with warm and satisfying flavor. Whether you prefer this soup with the potato skins on or off, or with the onions in the soup or pureed into the creamy broth, this soup will delight!
Ingredients
Soup

4 medium red potatoes
1 large onion, coarsely chopped
2 teaspoons snipped fresh rosemary
1 bulb (not clove - entire bulb) garlic
1 tablespoon olive oil
1 14 1/2-oz. can chicken broth
a tablespoon all purpose flour
1/2 teaspoon pepper
1/2 teaspoon salt
1 cup half-and-half



Optional Garnishes

homemade croutons (see recipe)
fresh rosemary sprigs
Directions
Preheat oven to 400° F.
Peel only 2 of the potatoes (or see "Alternatives" below), then cut into bite-size cubes and place on one side of a 9x9-inch casserole dish. Clean the other 2 potatoes with a brush under running water, then cut them into bite-size cubes. Place unpeeled cubed potatoes on the other side of the casserole dish.
Sprinkle chopped onion over potatoes evenly (or see "Alternatives" below). Sprinkle all potatoes with snipped fresh rosemary.
Peel the dry outer skin away from the garlic bulb, leaving skins of cloves in tact. Snip off the pointed top of the garlic bulb with scissors, leaving the cloves in tact. Place garlic bulb, cut side up, on top of the potatoes. Drizzle olive oil over all and cover casserole dish with aluminum foil. Bake for about 50 minutes or until garlic cloves feel soft when pressed with a fork and potatoes are tender and easily pierced with a fork.
Squeeze the garlic bulb to remove the garlic paste from the cloves and add to a food processor or blender. Scoop up the peeled potatoes and the onions on top of those potatoes, and place in food processor or blender. Add 1/2 of the chicken broth, the flour, salt and pepper. Cover and blend until mixture is nearly smooth.
Pour the pureed mixture into a medium saucepan. Stir into the saucepan the remaining unpeeled cooked potato cubes and onions, remaining chicken broth and half-and-half. Cook and stir over medium heat until slightly thickened and bubbly. Cook and stir for 1 minute more. If soup seems too thick, gradually add a little more half-and-half while stirring until you reach desired consistency. Add salt and pepper to taste if needed.
Alternatives
Making Soup Without Potato Skins
Simply peel all 4 potatoes before placing in casserole dish.
Making Soup Without Chopped Onions
Sprinkle chopped onions on only one-half of the potatoes and puree them with the potatoes.
Other recipes you might like: