Avocado, Tomatillo and Green Chile Soup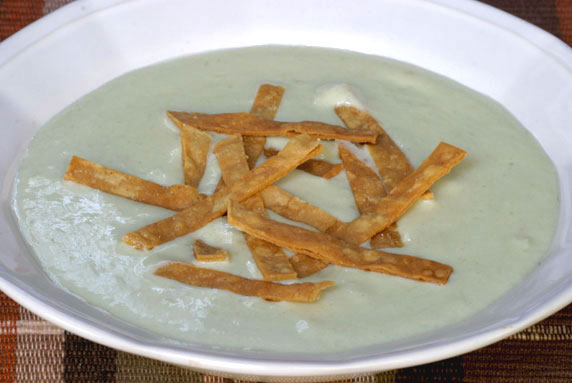 Yield:
6 servings (about 4 cups)
Cook Time:
2-3 minutes (for frying tortilla strips)
Tips:
If serving as a cold soup, it's easiest to chill ingredients before preparing - or once puréed, soup can be refrigerated until chilled. If serving hot, purée first, then heat in a saucepan on stovetop or in microwave.
Suggestion:
Traditionally served cold, though also delicious hot!
Clearly, because of its pastel green color, this creamy and delicious soup recipe would easily fall into the category of St. Patrick's Day food. Of course, there's no need to wait for a holiday to celebrate this tangy Avocado, Tomatillo and Green Chile soup! (By the way, if you are looking for Saint Patrick's Day recipes, you might also want to check out
Creamy Irish Vegetable Soup
.) This soup is traditionally eaten chilled right from the refrigerator, but also tastes delicious heated on the stove or in the microwave. The best thing about this soup (aside from its great flavor), is the fact that it requires no cooking at all!
Simply combine the ingredients in a
blender
or
food processor
, fry up a few tortilla strips until crispy (which takes less than 5 minutes on the stove) and your soup is ready to serve! Avocado, Tomatillo and Green Chile Soup (which some might refer to as a Mexican soup recipe with avocado) is made with one avocado, one tomatillo, a small can of green chiles, chicken broth (or stock) and sour cream. That's it!
If you prefer to serve this soup chilled (cold soups are fantastic for hot summer days!), it's best to chill the ingredients before you make the soup, then once blended (or pureéd), your soup is ready to serve. If the ingredients haven't yet been chilled, no problem! Simply make the soup and store it in the refrigerator for an hour or more until it's nice and cold (and by the way, the puréed avocado in this soup will not turn brown!). On the other hand, if you'd like to serve this soup hot, simply pour it into a saucepan and heat it up on the stove or in the microwave. Whether served hot or cold, this soup has lively tangy flavor that will pleasantly surprise your taste buds!
Ingredients
1 avocado, skin and seed removed and quartered
1 4-oz. can green chilies (whole or diced)
1 14.5-oz. can chicken broth or 2 cups chicken stock (fat removed)
1 fresh tomatillo, skin removed and quartered
1 cup sour cream
1/2 teaspoon salt
1/8 teaspoon white pepper
Directions
Soup
Cut avocado into 4 sections. Place in a
blender
or
food processor
the avocado, green chiles, tomatillo and chicken stock. Purée on high speed until smooth. Add sour cream, salt and pepper and mix again until well-blended. Serve soup immediately, garnished with a few crispy tortilla strips (recipe follows).
Crispy Tortilla strips
Cut two corn tortillas into 2-inch by 1/4-inch strips and fry in hot (375°) oil in a small skillet until crisp, turning once to fry both sides. Remove from oil and place on a plate covered by a folded paper towel. Salt lightly and allow to drain for 30 seconds. Sprinkle over individual soup servings.
Other recipes you might like: