Soups and Stews
Rainy days are known for being the best time to throw together a pot of soup or stew (or chili), but who says you need a rainy day to treat yourself to a tasty hot bowl of delicious comfort food? Soup is always delicious no matter what the weather is like outside,
and makes you feel warm and cozy inside. It also almost always is very healthy, containing an assortment of ingredients often with packed with vitamins, minerals, proteins and more. Soup is one of the easiest meals to prepare, and most recipes make plenty for everyone, as well as abundant leftovers. It also stores well in the refrigerator or freezer, and is a cinch to reheat later (and in fact tends to gain more flavor after having been stored in the fridge overnight). Whether you enjoy soups that are chunky or creamy, mild or spicy, thick or brothy, there are endless varieties from which to choose. Below you will find soup recipes made with chicken, potato, vegetable, split pea, beans, ground beef, ground pork, turkey, cheese and more. You may also want to check out the
Bread
page for an accompanying bread for your soup or stew recipe.
Homemade Croutons
also taste fabulous sprinkled over soup, offering crunch and added flavor.
Soup and Stew Recipes ▼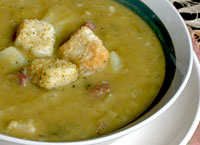 Whether you're searching for a great potato leek soup recipe or a split pea soup recipe with a delicious twist, this incredible
Potato Leek Split Pea Soup
will certainly deliver! Along with split peas and some ham hocks, this full-flavored soup recipe features diced leeks, diced celery root and chopped celery leaves along with some generous chunks of potatoes, giving this pea soup outstanding flavor and fabulous texture!
Potatoes, garlic and onions blend beautifully together in this
Roasted Potato and Garlic Soup recipe
. The potatoes are actually first roasted in the oven with the garlic and onion, then some of the potatoes and onions pureed along with the garlic, then mixed with the remaining roasted potatoes. This soup is creamy and delicious, and very satisfying. It's also very easy to make. Delicious garnished with
homemade croutons
!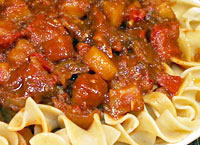 Rosy Beef Stew
derives its name from the rosy red color of this slow cooker dish as well as its unique flavor. This tasty stew has a thicker consistency than the traditional beef stew and is served over egg noodles much like beef stroganoff.
Rosy Beef Stew
is made with diced carrots, potatoes, red pepper, parsnips and pearl onions with bite-size chunks of stewing beef (pork, chicken or turkey may be used instead of beef.)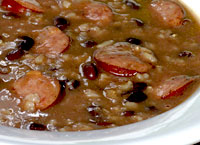 This
Sausage and Black Bean Soup recipe
features canned black beans, sliced pre-cooked sausage, rice, chopped onions and garlic and a touch of cayenne. The broth is made with a combination of chicken broth, the liquid from the cans of beans and and of all things, orange juice, giving this soup a uniquely delightful flavor. If made with white rice, this soup cooks in just 15 minutes; if made with brown rice, it's ready in 30 minutes!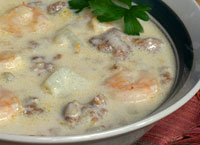 This savory and creamy chowder is full of wonderful flavor, and is very easy to put together!
Shrimp Chowder with Sausage and Potatoes
features small shrimp, chunks of Italian sausage and chunks of potatoes in a flavorful thick and creamy broth of chicken broth and half and half, seasoned with sautéed minced bacon, onion and garlic.This easy chowder is perfect for a rainy day or anytime, and cooks in no more than 30 minutes!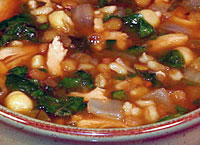 This
Spiced Lentil & Barley Soup
is not only delicious and packed with flavor, it has valuable nutritional qualities! (See recipe for more details.) This soup features shredded chicken, barley, garbanzo beans (chick peas). lentils, fresh spinach. onions and parsley, while the broth is spiced up with salsa (you can choose your preferred level of spice). This soup that will please your pallet and boost your health!