Soups and Stews
Rainy days are known for being the best time to throw together a pot of soup or stew (or chili), but who says you need a rainy day to treat yourself to a tasty hot bowl of delicious comfort food? Soup is always delicious no matter what the weather is like outside,
and makes you feel warm and cozy inside. It also almost always is very healthy, containing an assortment of ingredients often with packed with vitamins, minerals, proteins and more. Soup is one of the easiest meals to prepare, and most recipes make plenty for everyone, as well as abundant leftovers. It also stores well in the refrigerator or freezer, and is a cinch to reheat later (and in fact tends to gain more flavor after having been stored in the fridge overnight). Whether you enjoy soups that are chunky or creamy, mild or spicy, thick or brothy, there are endless varieties from which to choose. Below you will find soup recipes made with chicken, potato, vegetable, split pea, beans, ground beef, ground pork, turkey, cheese and more. You may also want to check out the
Bread
page for an accompanying bread for your soup or stew recipe.
Homemade Croutons
also taste fabulous sprinkled over soup, offering crunch and added flavor.
Soup and Stew Recipes ▼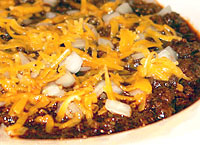 Chorizo Chili
is a spicy and powerfully flavored chili that features pork chorizo and lean ground beef in a beef and tomato broth seasoned with cayenne pepper, chili powder, cumin and white pepper. Though no kidney beans are cooked with the chili, they can certainly be added to the chili once dished up. While many chili recipes use tomato paste as a thickening agent, Chorizo Chili uses dehydrated potato buds.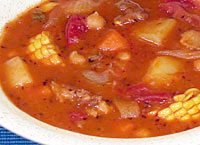 Chunky Mexican Pork Stew
is a hearty stew that uses large chunks of every ingredient, making this pork stew recipe warm, delicious, and satisfying as well as an impressive presentation! Chunky Mexican Pork Stew features large chunks of pork shoulder potatoes, carrots, slices of corn on the cob, garbanzo beans, onions and stewed tomatoes, simmered in a chicken and tomato-flavored broth seasoned with Mexican herbs and spices.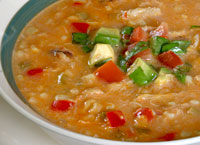 This healthy and delicious
Corn and Crab Bisque recipe
features lump crab meat, white or yellow corn kernels, diced celery, diced red bell pepper, diced onions and minced garlic in a light and flavorful stock made with your choice of chicken, seafood or vegetable broth, tomato juice, milk and freshly squeezed lemon juice. What really makes this bisque complete is the fresh garnish made with avocado, basil, tomatoes and lime juice!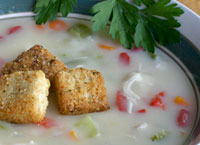 This
Cream of Chicken Soup recipe
is a quick and easy version that will help you put a meal on the table in a short time with very little effort, while still producing great, full flavor! This recipe strays a little from the simplified version by combining a creamy chicken broth with your choice of shredded or cubed cooked chicken and an assortment of flavorful diced vegetables that give this soup great texture and color!
This
Cream of Potato Soup recipe
is made with hand-mashed potatoes, half and half, sour cream, leeks and green onions. The flavor is full and satisfying, and the texture, though a creamy-style (without potato chunks), has the unmistakable texture of potatoes created by the hand-mashing technique (rather than using a hand-mixer). This soup can be made with Russet, golden, red or any other potato, or a combination of all.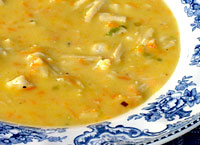 This
Creamy Chicken Cheese Carrot Soup recipe
is one of the easiest soups you'll ever make, and is just as tasty as it looks! Green onions and shredded carrots are sauteed in butter until tender, then combined with a little flour to create a roux. Tender bites of chicken breast (canned, deli-style or other), shredded cheddar cheese milk, chicken broth, Worcestershire sauce, salt and pepper are stirred in, and your delicious soup is ready!