Soups and Stews
Rainy days are known for being the best time to throw together a pot of soup or stew (or chili), but who says you need a rainy day to treat yourself to a tasty hot bowl of delicious comfort food? Soup is always delicious no matter what the weather is like outside,
and makes you feel warm and cozy inside. It also almost always is very healthy, containing an assortment of ingredients often with packed with vitamins, minerals, proteins and more. Soup is one of the easiest meals to prepare, and most recipes make plenty for everyone, as well as abundant leftovers. It also stores well in the refrigerator or freezer, and is a cinch to reheat later (and in fact tends to gain more flavor after having been stored in the fridge overnight). Whether you enjoy soups that are chunky or creamy, mild or spicy, thick or brothy, there are endless varieties from which to choose. Below you will find soup recipes made with chicken, potato, vegetable, split pea, beans, ground beef, ground pork, turkey, cheese and more. You may also want to check out the
Bread
page for an accompanying bread for your soup or stew recipe.
Homemade Croutons
also taste fabulous sprinkled over soup, offering crunch and added flavor.
Soup and Stew Recipes ▼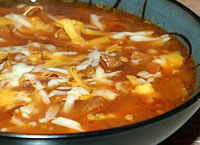 Chicken Garbanzo Soup
is an exceptionally easy soup to prepare, and has absolutely delicious flavor. This tangy and mildly spicy soup recipe features tender chunks of chicken, garbanzo beans and onions in a chicken broth seasoned with chili powder, garlic, cumin lemon juice and salsa (salsa can be smooth or chunky or mild to spicy). Fantastic topped fried tortilla strips, shredded cheddar cheese and a dollop of sour cream.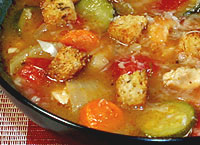 Chicken Minestrone
is a soup that comes fully loaded! Sautéed onions and garlic with chicken, potatoes, carrots, celery, zucchini, tomatoes, garbanzo beans, pasta shells and long grain rice cook and mingle together in a short 1 1/2 hours to produce a delicious soup with a fantastic broth. One of the beauties of this soup is how all vegetables are cut into large chunks, making every bite hearty and satisfying.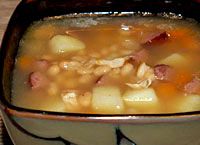 This
Chicken, Sausage, Potato and Bean Soup recipe
is good any time of year, featuring bite-size chunks of smoked sausage, chicken breast, potatoes, carrots and Great Northern beans swimming in a broth of smoky and wonderful flavors. To adjust this soup to your personal liking, any type of smoked sausage can be used, as well as white or dark chicken meat (or both). Navy or Great Northern Beans (or both) can also be used.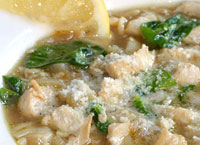 Chicken, Spinach and Orzo Soup
is easier than ever to make and delivers a wonderfully fresh and delicious flavor. Perhaps the secret to the uniqueness of this soup is the addition of cinnamon and coriander to the broth, as well as some freshly squeezed lemon juice. Fresh baby spinach is placed in each serving bowl just before serving, and freshly grated Parmesan cheese and lemon wedges give this soup the perfect final touch.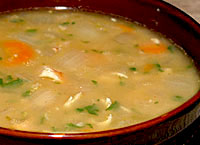 This
Chili Chicken Bean Soup recipe
is made with shredded (or cubed) chicken breast, onion, carrots, garlic, Great Northern beans and mild green chiles. The broth combines chicken broth seasoned with chicken bouillon, cumin and a small amount of cayenne pepper, and is then thickened slightly using a paste made with milk, flour and small amount of smashed Great Northern beans. Fresh cilantro is stirred in just before serving.