Soups and Stews
Rainy days are known for being the best time to throw together a pot of soup or stew (or chili), but who says you need a rainy day to treat yourself to a tasty hot bowl of delicious comfort food? Soup is always delicious no matter what the weather is like outside,
and makes you feel warm and cozy inside. It also almost always is very healthy, containing an assortment of ingredients often with packed with vitamins, minerals, proteins and more. Soup is one of the easiest meals to prepare, and most recipes make plenty for everyone, as well as abundant leftovers. It also stores well in the refrigerator or freezer, and is a cinch to reheat later (and in fact tends to gain more flavor after having been stored in the fridge overnight). Whether you enjoy soups that are chunky or creamy, mild or spicy, thick or brothy, there are endless varieties from which to choose. Below you will find soup recipes made with chicken, potato, vegetable, split pea, beans, ground beef, ground pork, turkey, cheese and more. You may also want to check out the
Bread
page for an accompanying bread for your soup or stew recipe.
Homemade Croutons
also taste fabulous sprinkled over soup, offering crunch and added flavor.
Soup and Stew Recipes ▼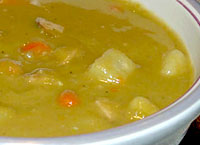 This
Split Pea Soup recipe
features potatoes and carrots and bite-size pieces of smoked sausage, though you can substitute with ham or bacon, and add onions and celery. Any variety of smoked sausage can be used with this soup recipe, including chicken, turkey, pork and beef and mild or spicy, all producing the same delicious result. One of the beauties of split pea soup recipes is that is that no pre-soaking of the peas is required.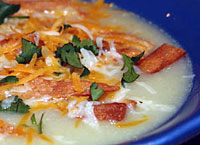 This
Texas Tortilla Soup recipe
is very basic yet very delicious! Bites of shredded chicken chicken are simmered with vegetables in a chicken-flavored broth, then thickened with pureed tortillas, garlic and jalapenos. Photo shows this soup garnished with crunchy tortilla strips, shredded cheddar and jack cheese and chopped cilantro. You can also add a dollop of sour cream on top for added flavor, texture and color.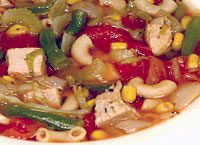 Turkey Vegetable Macaroni Soup
is filled with wholesome ingredients and abundant flavor! This healthy soup recipe only takes about 30 minutes to make and is a great way to use up some of those turkey leftovers during the holidays. Featuring turkey (chicken may also be used), green beans, corn, celery, tomatoes, shredded cabbage (optional) and elbow macaroni, this soup recipe provides a full and balanced meal!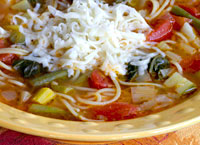 This
Vegetable Soup recipe
features eight vegetables, each one adding its own great flavor and texture to the tasty broth, not to mention great color! Some white beans and vermicelli noodles are also added, giving this soup something extra to sink your teeth into. For the perfect flavor topper, shredded swiss cheese (or any cheese you enjoy) is sprinkled over the top, along with some crispy croutons, if your heart so desires!
This
White Bean Soup with Spicy Sausage recipe
will warm you in every way possible! This deliciously vibrant soup features Great Northern beans, sliced sausage, carrots, celery, green bell pepper and an assortment of herbs and spices that bring this soup to life. As with most soup recipes, any leftovers are just as wonderful, because the soup thickens and gains more flavor overnight in the fridge.