Soups and Stews
Rainy days are known for being the best time to throw together a pot of soup or stew (or chili), but who says you need a rainy day to treat yourself to a tasty hot bowl of delicious comfort food? Soup is always delicious no matter what the weather is like outside,
and makes you feel warm and cozy inside. It also almost always is very healthy, containing an assortment of ingredients often with packed with vitamins, minerals, proteins and more. Soup is one of the easiest meals to prepare, and most recipes make plenty for everyone, as well as abundant leftovers. It also stores well in the refrigerator or freezer, and is a cinch to reheat later (and in fact tends to gain more flavor after having been stored in the fridge overnight). Whether you enjoy soups that are chunky or creamy, mild or spicy, thick or brothy, there are endless varieties from which to choose. Below you will find soup recipes made with chicken, potato, vegetable, split pea, beans, ground beef, ground pork, turkey, cheese and more. You may also want to check out the
Bread
page for an accompanying bread for your soup or stew recipe.
Homemade Croutons
also taste fabulous sprinkled over soup, offering crunch and added flavor.
Soup and Stew Recipes ▼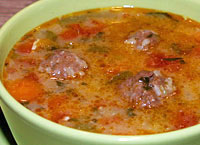 Bulgarian Meatball Soup
features a powerful and fabulous-flavored broth with tender and delicious seasoned meatballs. Yellow chiles, green pepper, carrots, tomatoes and chopped fresh parsley give the soup broth vibrant color and outstanding flavor, while the meatballs, made with lean ground beef, rice and spices give this soup the perfect savory touch. Egg and lemon are added towards the end of the cooking process.
Burgundy Chili
is made with ground beef and chorizo and produces a thick and delicious tomato-flavored broth made with tomato puree, tomato sauce, burgundy, chili powder, red diced red onions and diced jalapenos. After this chili cooks for a minimum of 2 hours, the alcohol in the burgundy evaporates, and a subtle delightful flavor remains, giving this meat stew a unique and delicious taste that all ages will enjoy.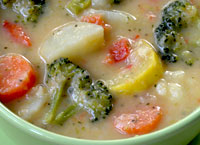 This thick and cheesy and very easy
healthy homemade vegetable soup recipe
can be made using fresh or pre-cut frozen Normandy blend vegetables (traditionally consisting of a combination of bite-size cuts of broccoli forets, cauliflower florets, carrots, yellow squash and zucchini squash.) Once cooked, some of the vegetables are puréed in the blender, then added back to the soup as a thickening agent. Healthy, cheesy and delicious!
This
Chicken and Sausage Chowder recipe
features chunks of chicken breast, sweet Italian sausage (chunked or sliced), chunks of potatoes and chopped onions. The combination of flavors work wonderfully together, and taste even better topped with some croutons or soup crackers and some garnishes of chopped parsley and sliced green onions. Precooked rotisserie chicken or canned chicken can also be used.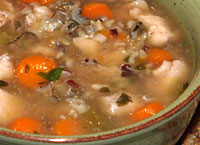 This
Chicken and Wild Rice Soup
is incredibly delicious and very easy to put together. It combines a basic but wonderful mixture of chicken and broth, carrots, celery, assorted herbs and a wild rice blend that gives it fabulous flavor and texture. The wild rice blend in this recipe contains wild rice, brown rice, sweet brown rice, wehani and japonica. This soup tastes great reheated after chilling and is perfect served with
Garlic Bread
.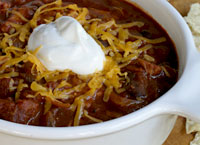 This quick and easy
Chicken Chili recipe
takes a short time to prepare and cook, yet delivers great, full flavor that will appeal to all ages! What makes this chili recipe so easy is that it calls for a few canned goods: Chicken breast, zesty chili-style tomatoes, black beans, crushed tomatoes, and some chicken broth - and rather than a long list of seasonings, a couple packets of chili seasoning mix and a little cumin is all that's needed!