Chicken
Chicken is probably the most popular meat of all. With such a large variety of ways to prepare chicken and the fact that it is light, versatile, low in calories, healthy and delicious, its popularity is understandable. As shown in the list of chicken recipes below, chicken can be served in an endless variety of ways, such as chicken with sauces, chicken pasta dishes, chicken casseroles,
chicken curry, chicken enchiladas, Asian chicken dishes, chicken soups, chicken lettuce wraps, chicken salads, and the list goes on and on! Cooking methods for chicken can also vary, such as roasting or baking chicken, grilling chicken, frying chicken, deep frying chicken and stir-frying chicken - each cooking method producing its own unique texture and flavor. Whether you're searching for a recipe for fried chicken, baked chicken, grilled chicken, slow-cooker or any other cooking method for chicken, you can't go wrong. This page lists recipes for chicken dishes as well as chicken salads. If you're specifically looking for salad recipes, you'll find chicken salads and more on the
Salads
page. If you're browsing for soup recipes the
Soups and Stews
page has a variety of chicken soup recipes as well as plenty of other soup recipes. Most recipes you'll find on this page were made with skinless boneless chicken breast meat, though if you prefer dark chicken meat, you can certainly use dark meat instead of light (or a combination of both).
Chicken Recipes ▼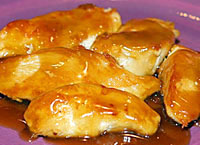 Crispy Lemon Chicken
is a tangy and refreshing chicken recipe, featuring cuts of chicken that have been sautéed until lightly browned in a skillet, then drizzled with a mildly sweet and tangy lemon sauce made on your stovetop. If you like orange chicken and are a fan of foods flavored with lemon, you'll enjoy this lemon chicken dish. The sauce has a consistency similar to sweet and sour sauce, with the added freshness and zing of lemon.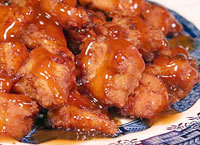 This
Crispy Sweet and Sour Chicken
whips up in less than 30 minutes, and will give you that fresh restaurant taste without the restaurant price! Bite-size tender chunks of chicken are coated with a light egg and cornstarch batter, then fried until crispy and golden. A wonderful sweet and sour sauce that takes just minutes to prepare is drizzled over the top, giving this chicken dish the perfect final touch and eye appeal.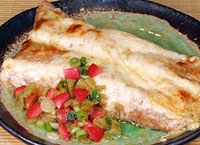 Enchiladas Suizas
(Swiss enchiladas) differ from traditional chicken enchilada recipes, in that they are made with a creamy cheese sauce rather than a red chili pepper sauce. The filling for these elegant chicken enchiladas features shredded chicken breast, sautéed onion and garlic, diced green chiles, salsa verde and fresh parsley. The enchiladas are topped with the sauce and shredded cheese, then baked until hot and bubbly..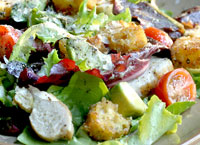 Aside from the freshness of the ingredients used, what truly makes a garden salad delightful is the salad dressing. This
Garden Salad with Dijon Vinaigrette
features baby spring mix (a variety of baby red and green leaves), grape tomatoes, avocado, chicken breast and homemade croutons tossed with a tangy, light and fresh Dijon mustard vinaigrette dressing that will give your salad glistening shine and fabulous flavor!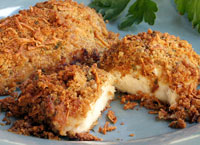 This
Crispy Cheese-Baked Chicken
recipe uses a combination of bread crumbs, seasonings and freshly chopped parsley, along with some shredded cheese. The chicken is dipped into melted butter, then coated with the bread crumb and cheese mixture. Any remaining melted butter is drizzled over the top of the cheesy crumb mixture, and the chicken is popped into the oven utnil golden and crispy. All ages will love this dish!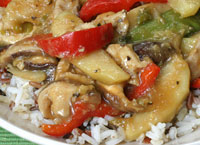 When it comes to quick and easy healthy chicken recipes, stir-fry recipes just can't be beat! This
Ginger Chicken Stir-Fry with Apples recipe
is as fresh and healthy as can be, made with a colorful blend of crisp-tender vegetables, slices of chicken breast and apples stir-fried with a tangy and delicious sauce flavored with applesauce, soy sauce, chicken broth (or water) and apple cider vinegar. Perfect served over rice!