Chicken
Chicken is probably the most popular meat of all. With such a large variety of ways to prepare chicken and the fact that it is light, versatile, low in calories, healthy and delicious, its popularity is understandable. As shown in the list of chicken recipes below, chicken can be served in an endless variety of ways, such as chicken with sauces, chicken pasta dishes, chicken casseroles,
chicken curry, chicken enchiladas, Asian chicken dishes, chicken soups, chicken lettuce wraps, chicken salads, and the list goes on and on! Cooking methods for chicken can also vary, such as roasting or baking chicken, grilling chicken, frying chicken, deep frying chicken and stir-frying chicken - each cooking method producing its own unique texture and flavor. Whether you're searching for a recipe for fried chicken, baked chicken, grilled chicken, slow-cooker or any other cooking method for chicken, you can't go wrong. This page lists recipes for chicken dishes as well as chicken salads. If you're specifically looking for salad recipes, you'll find chicken salads and more on the
Salads
page. If you're browsing for soup recipes the
Soups and Stews
page has a variety of chicken soup recipes as well as plenty of other soup recipes. Most recipes you'll find on this page were made with skinless boneless chicken breast meat, though if you prefer dark chicken meat, you can certainly use dark meat instead of light (or a combination of both).
Chicken Recipes ▼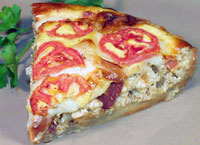 This
Chicken and Bacon Quiche
recipe combines the celebrated flavors of chicken, bacon and Swiss cheese, and mixes them with a seasoned egg mixture that has a wonderful creaminess provided by the addition of sour cream and milk. Chicken amd Bacon Quiche is a festive dish that can be served for breakfast, brunch, lunch or dinner, and is even great as a quick cold snack right from the fridge!
This
Chicken and Cheese Casserole
has a uniquely delicious flavor with a variety of goodies! Chunks of chicken are mixed with a blend of peas, onions and mushrooms, combined with a cheesy sauce and a hint of Tabasco, then topped with buttery, light and crunchy corn flake crumbs that crisp in the oven. This chicken dish can be made using canned mushrooms, or you can saute your own. Both deliver tasty results!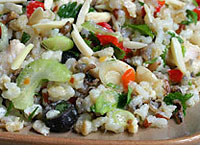 Chicken and Rice Salad with Red Pepper Vinaigrette
is a light and refreshing salad made with a tangy and delicious Red Pepper Vinaigrette dressing. This salad features chunks of chicken breast, a mixed rice blend, celery slices, sliced ripe olives, sliced green onion and diced pimientos, and is delicious served on its own or over large lettuce leaves, garnished with whole ripe olives, tomato slices and slivered almonds.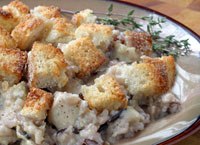 This
Chicken and Wild Rice Casserole recipe
has a creamy, cheesy consistency and flavor, and the wild rice and toasted Parmesan sourdough bread cube topping give it lively texture! This casserole will please all ages and leave big hunger feeling very satisfied. Along with all the other tasty ingredients, this casserole recipe features chunks of chicken breast and chopped artichoke hearts, making a fabulous combination of flavors.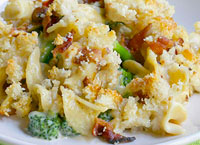 Chicken Broccoli Bake
is creamy and cheesy, and true comfort food filled with all the good stuff! Steamed broccoli florets are combined with fresh lemon juice and placed in a casserole dish. Chicken breast and noodles mixed with a creamy chedd ar cheese sauce are then poured over the broccoli. The casserole is then topped with cooked and crumbled bacon and a top crust made of fresh bread crumbs, butter and Parmesan cheese.