Chicken and Cheese Casserole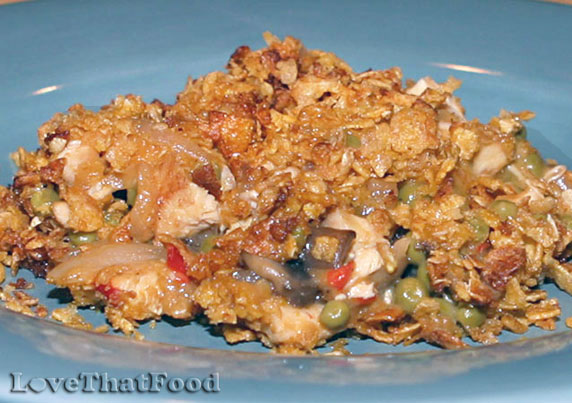 Tips:
Sauteed fresh mushrooms can be used in place of canned, if desired.
This easy Chicken and Cheese Casserole recipe is unique and delicious, featuring chunks of chicken in a cheesy sauce, mixed with a blend of peas, sauteed onions and mushrooms with a hint of Tabasco (or other hot sauce if you prefer).
Just before popping into the oven, this chicken casserole is topped with a combination of crumbled cornflakes (or any other flake cereal you prefer) and a modest amount of butter, producing a golden brown, light and crispy buttery topping that adds a wonderful crispy crunch to every bite!
This is one of those quick and easy casseroles that gets a little helping hand from undiluted cheddar or nacho cheese soup, canned mushrooms and canned peas, which will save a ton of time in terms of preparation. (Note: Photo above shows this dish prepared with freshly sautéed mushrooms, which you can do as well if you prefer fresh ingredients over canned - though canned mushrooms taste marvelous as well!) Chicken and Cheese Casserole has the added benefit of providing three food groups in one dish (meat, vegetables and grains), so no side dish is needed - though a
salad
and/or
bread
accompany this dish nicely.
Ingredients
2 cups cooked, diced chicken
1 small can baby peas (regular is fine if you can't find the baby peas)
1/2 an onion, chopped
1 small can sliced mushrooms (liquid reserved)
1 11-oz. can cheddar cheese or nacho cheese soup (undiluted)
1 teaspoon Tabasco pepper sauce
1 1/2 cups cornflake crumbs
3 tablespoons butter, divided
Directions
Preheat oven to 350°F.

Heat 1 tablespoon butter in a skillet and sauté onion until tender; about 5 minutes. In a large mixing bowl, combine chicken, peas, sautéed onion, mushrooms (with liquid), cheese soup and Tabasco sauce. Stir until ingredients are blended. Pour mixture into a 2-quart casserole dish.

Melt remaining 2 tablespoons butter. In a small mixing bowl, add corn flake crumbs and melted butter and stir until well blended. Pour cornflake and butter mixture on top of casserole, spreading to evenly cover.

Bake for 25-30 minutes, or until cornflake crumbs have turned golden brown.
Other recipes you might like: