Salsa Chicken and Potatoes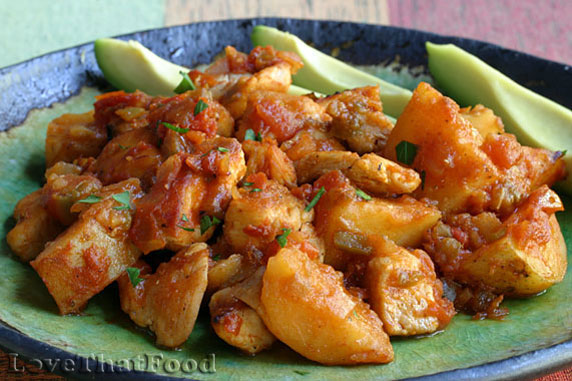 Cook Time:
1 hour, 10 minutes
Tips:
Chicken broth can be purchased at the store or made at home by dissolving 1 chicken bouillon cube in 1 cup of hot water.
Suggestion:
Garnish with additional salsa, sour cream, avocado slices and/or chopped fresh cilantro if desired. Delicious served with a
salad
.
What could be better than a dinner dish that is unbelievably quick and easy to make and delivers fabulous flavor? Salsa Chicken and Potatoes is one of those quick and easy dishes that truly delivers! This easy chicken dish features a combination of chunks of chicken and potatoes in a
simple yet full-flavored sauce made with chicken broth and pre-bottled chunky salsa. Preparing this chicken dish is simply a matter of browning the chicken and potato chunks (no peeling of potato skins is needed) in a skillet for about 10 minutes, briefly heating the chicken stock and salsa together on the stove, then pouring it over the chicken and potatoes in a casserole dish. That's it! After just 1 hour of baking, you've got a delicious and colorful dish that will please all ages. This dish also makes wonderful leftovers.
You can use chicken breast meat or both light and dark meat from a whole chicken. While golden or Russet potatoes are recommended with this dish, virtually any type of potatoes will do. (Photo above shows Salsa Chicken and Potatoes made with golden potatoes). You can also control the level of spice in this recipe by choosing a salsa that has the level of spice you favor.
Ingredients
2 tablespoons oil
2 boneless, skinless chicken breasts or 1 lb. chicken pieces
1 lb. potatoes, scrubbed, dried and cut into large chunks (peel potatoes only if you prefer)
salt and pepper
1 1/2 cups prepared chunky salsa (with tomatoes and chiles)
1 cup chicken broth
garnish (optional): additional salsa, sour cream, avocado slices and/or chopped fresh cilantro
Directions
Preheat oven to 375° F.

In a saucepan, combine salsa and broth. Bring to a boil over high heat, then immediately remove from heat and set aside.

Heat oil in a large skillet over medium-high heat. Add chicken and potatoes and season to taste with salt and pepper. Cook, stirring until all sides are browned (about 10 minutes). Pour salsa and broth mixture over chicken and potatoes in skillet and heat for about 1 minute, scraping bottom of skillet to loosen any bits and pieces.

Pour entire mixture into a casserole dish. Cover with aluminum foil (or casserole lid) and bake for 1 hour. Garnish with fresh chopped cilantro, avocado slices and/or sour cream if desired.
Other recipes you might like: