Chipotle Honey Tangerine Glazed Chicken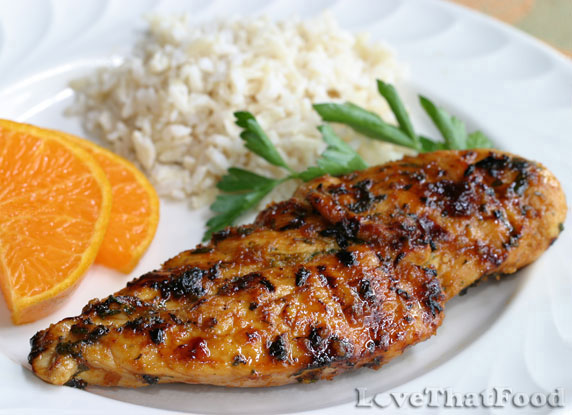 Tips:
Chicken may be marinated overnight. Marinade and Glaze may be made a day in advance. Chicken may also be cut into smaller pieces and made as kabobs.
Chipotle Honey Tangerine Glazed Chicken is a grilled chicken recipe that will pleasantly surprise your taste buds with unsuspecting and delightful flavor. Whether you prefer to
use your outdoor charcoal grill, gas grill or indoor grill, this chicken recipe will produce a distinct theme of tangerine flavor with just the right blend of chipotle and honey. Chicken breasts are first soaked in a flavorful marinade made with all fresh ingredients, including parsley, cilantro, thyme, gingerroot and tangerine zest. After the chicken has bathed in this fresh marinade, it is basted during the last few minutes on the grill with a spectacular glaze. Tangerine juice, tangerine peel, honey, soy sauce and minced chipotle peppers in adobo sauce are boiled on the stove for 20 minutes, reducing the sauce to a beautiful glaze that will add incredible flavor and succulence to your grilled chicken breasts. As you can also see by the photo above, the marinade and glaze will add rich color and juiciness to your chicken breasts
Ingredients
6 boneless, skinless chicken breast halves salt



Marinade

1 cup freshly squeezed tangerine juice (about 3 tangerines)
1/3 cup chopped fresh parsley
1/3 cup chopped fresh cilantro
3 tablespoons chopped fresh thyme
3 tablespoons minced fresh gingerroot
3 tablespoons rice vinegar
2 tablespoons olive oil
2 tablespoons finely grated tangerine peel
1 tablespoon coarse kosher salt



Glaze

2 cups fresh tangerine juice (about 6 tangerines)
5 tablespoons honey
1/4 cup soy sauce
2 tablespoons finely grated tangerine peel
2 teaspoons minced canned chipotle peppers in adobo sauce
Directions
Marinade
In a medium mixing bowl, whisk all Marinade ingredients together. Place chicken in a dish and pour the marinade over the chicken, turning chicken to coat. Cover and chill for at least 4 hours (may be chilled overnight), turning occasionally.
If using a charcoal or gas grill, prepare for cooking. If using an indoor grill, preheat after preparing Glaze, as recipe discusses below.
Glaze
To a medium saucepan, add juice, honey and soy sauce. Bring to a boil, then reduce heat and cook at a gentle boil for 20 minutes, until juice reduces to about 2/3 cup. Stir in grated tangerine peel and chipotles, then remove from heat.
If using an indoor grill, preheat grill.
Remove chicken form the dish and discard the marinade. Sprinkle the chicken with salt to taste and grill over medium-low heat until nearly cooked through, turning as needed to evenly cook (should take about 20 minutes, so adjust your heat accordingly). Brush the chicken with Glaze and grill for 2 minutes on each side.
Other recipes you might like: