Sinaloa Grilled Chicken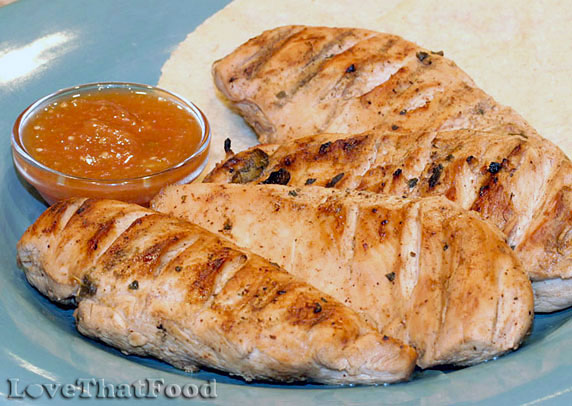 Tips:
You can use a whole (cut up) chicken (with skin) or skinless, boneless chicken breasts with this recipe. Salsa can be made a day in advance.
Suggestion:
Cut chicken into smaller pieces or cut or shred into bite-size pieces and roll up in warmed tortillas with Tomato & Tomatillo Salsa (recipe below), avocado slices and/or Monterey jack cheese.
This chicken dish celebrates the flavors of Sinaloa, a state located in the northwestern part of Mexico. Depending on your personal preference, Sinaloa Grilled Chicken can be prepared as shown in the above photo with boneless, skinless chicken breasts, or you can use a cut-up whole chicken with the skin still on (which will likely retain more juices). This chicken recipe begins with the chicken pieces being marinated (for 3 hours to overnight) in a delicious and tangy vinegar and
water-based marinade sauce seasoned with garlic, chili powder and a perfect blend of herbs. Once marinated, the chicken pieces are placed over hot coals and grilled for about 20 minutes until browned yet still juicy. On its own, this grilled chicken has a great flavor from the marinade, but truly comes to life when accompanied by the Tomato & Tomatillo Salsa. The salsa recipe combines tomatoes and tomatillos, along with onions, garlic and a Serrano chile (don't worry - this salsa is not overly spicy). These vegetables are boiled for 10 minutes, then the tomato skins are removed (very easily) and all the ingredients are pureed in a food processor or blender to a smooth consistency. You can certainly simply serve the chicken with a side of salsa for dipping, but the best way to serve Sinaloa Grilled Chicken is to cut the chicken into pieces that will easily fit into the corn tortillas (can also be cut or shredded into bite-size pieces), then add any or all of your favorite filler ingredients, such as avocado slices or Monterey jack cheese, then pour the salsa over all, roll up the tortilla and enjoy!
Ingredients
Tomato & Tomatillo Salsa

3/4 lb. tomatoes, bases of stems removed
3 tomatillos
1/4 medium onion
1 large clove garlic
1 whole Serrano chile, stem removed
2 cups water
1/2 teaspoon salt



Chicken

1 cup white vinegar
1/2 cup water
2 small cloves garlic, crushed and chopped
2 1/2 teaspoons salt
1 1/2 teaspoons chili powder
1/2 teaspoon oregano, crumbled
1/2 teaspoon ground black pepper
1 bay leaf, crumbled
4 skinless, boneless chicken breasts (or 1 chicken, cut into serving pieces)


Directions
Tomato & Tomatillo Salsa
Remove papery husks from tomatillos and rinse together with tomatoes in a colander. Place tomatoes, tomatillos, onion, garlic and chile in large saucepan. Add water. Bring to a boil, then reduce heat and cover. Simmer for 10 minutes.
Drain vegetables. Remove peel from tomatoes (this is very easy, as the peels will be falling off). Place all ingredients in a food processor or blender and puree. Pour salsa into a container and stir in salt. Cover and store in refrigerator until ready to serve.
Chicken
In a medium mixing bowl, combine vinegar, water, garlic, salt, chili powder, oregano, pepper and bay leaf. Wash chicken and pat dry. Place chicken pieces in a large shallow baking dish or plastic bag. Pour marinade over chicken. If using a baking dish, cover baking dish with plastic wrap and refrigerate for 3 hours or more (may refrigerate overnight), turning once half-way through chilling process. (If using a plastic bag, remove air from bag, tie bag in a tight knot and place in a bowl in the refrigerator, turning bag over once half-way through chilling process.)
Cook over hot coals, turning often, until done but not dry (bout 20-30 minutes, depending on heat of coals). Serve with Salsa and hot corn tortillas.
Other recipes you might like: