Chicken Cilantro with Rice and Beans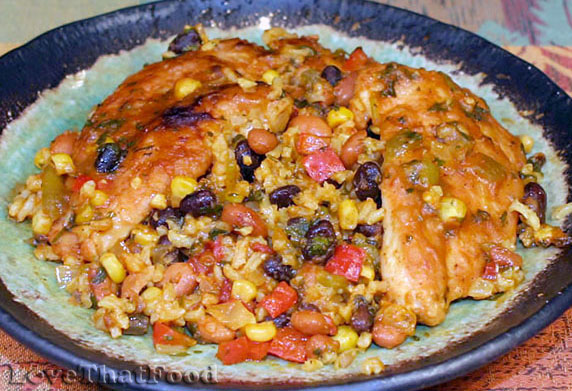 Cook Time:
About 45 minutes
Tips:
Garnish each serving a dollop of sour cream if desired. This dish requires a very large skillet.
Chicken Cilantro with Rice & Beans is a Mexican dish that combines golden pan-fried chicken breasts with a beautiful yellow rice mixture made with chopped fresh cilantro, pinto and black beans, yellow corn, red bell pepper, onions, garlic and stewed tomatoes. After adding the cooked
chicken, this colorful rice mixture cooks on the stovetop in only 30 minutes - no stirring necessary! Preparation is easy - just a matter of chopping up a few veggies and opening a few cans. Throw it all in a large skillet and come back in a half an hour for a delicious and satisfying dinner! Yellow rice gets its yellow color and unique flavor from saffron, a spice that comes from a flower native to Southwest Asia. Though saffron is considered the world's most expensive spice by weight, you can fortunately find packaged yellow rice at a very low cost in the rice and beans section of most grocery stores. The photo above shows two chicken breasts resting on a generous helping of the rice and bean mixture, but you can certainly arrange this dish any way you prefer. Though this Mexican chicken and rice dish is enough to satisfy anyone's hunger, if you'd like to add a side dish or two to this meal, cornbread and a salad are perfect compliments.
Ingredients
3/4 cup coarsely chopped fresh cilantro
4-oz. can of diced green chiles, drained
1/2 cup all-purpose flour
1 medium onion, diced
8 skinless chicken breast halves
1 red bell pepper diced
1/4 cup olive oil, plus 2 tablespoons oil
2 cups chicken broth
10-oz. package of yellow rice
4 cloves garlic, minced
28-oz. can stewed tomatoes
1/2 teaspoon pepper
15-oz. can black beans, drained and rinsed
15-oz. can pinto beans, drained and rinsed
1/4 teaspoon ground cayenne pepper
1 teaspoon salt
15-oz. can of whole kernel corn (white or yellow), drained
Directions
Heat oil in a large skillet. Place flour in a shallow bowl or pie pan. Coat chicken evenly with flour, then fry chicken in oil until both sides turns golden brown in color (about 5 minutes on both sides). Transfer chicken to a plate and cover with aluminum foil to keep warm. Set aside.

Wipe out skillet with a paper towel. Heat the 2 tablespoons oil to skillet. When oil is hot, add bell pepper and onion and cook on medium heat for about 3-4 minutes or until tender. Add garlic and cook for about 1 minute. Add the yellow rice, chicken broth, pinto beans, corn, black beans, stewed tomatoes, cilantro and green chile peppers, pepper, salt and cayenne pepper. Stir until thoroughly combined.

Bring mixture to a boil, then return cooked chicken pieces to skillet, immersing into rice mixture. Reduce heat to low. Cover and simmer for 30 minutes. Serve immediately.
Other recipes you might like: