Mexican Chicken Kiev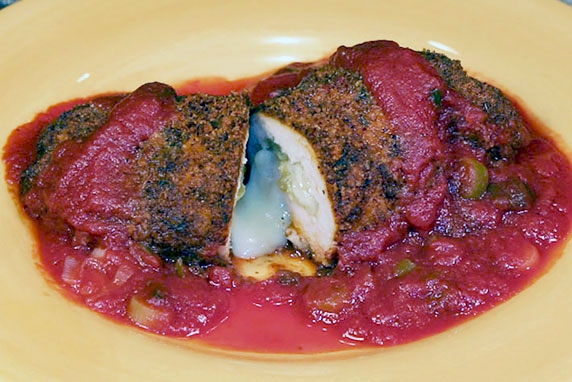 Tips:
See description below for quick vs. traditional preparation methods.
Suggestion:
Delicious served with a side of rice, such as a wild rice mix.
This elegant Mexican Chicken Kiev recipe is a surprisingly easy chicken dish to make. Chicken Kiev recipes can be made with any number of filling ingredients. Some examples of filler ingredients are butter and garlic, herbs, vegetables, stuffing, or ham and cheese (commonly known as Cordon Bleu). Preparation methods can also vary. While some recipes call for carving an opening in the chicken then stuffing the opening, others pound the
chicken breasts down to a thinner thickness using a meat pounder. The thinned breasts are then topped with the filling ingredients and the breasts are rolled up, rolled in butter and bread crumbs. Chicken Kiev can be baked or fried as well.
Most Chicken Kiev recipes require a few hours of refrigeration before cooking to help prevent leakage during cooking. However, if you don't mind a little oozing of the ingredients during the cooking process (which can actually be quite appealing and tasty!), you can skip the refrigeration step and simply secure the openings with few toothpicks and cook immediately. This Mexican Chicken Kiev recipe uses the pounding method, fills the chicken with Monterey Jack cheese and diced green chiles and is baked in only 20 minutes! A seasoned tomato sauce is then drizzled over the top of each serving, giving this dish added flavor as well as eye appeal. The outside is crispy and delicious, while the inside oozes with the melting cheese and chiles once you dig in!
Ingredients
Chicken

4 boneless and skinless chicken breasts
1 7-oz. can diced green chiles
4 oz. Monterey Jack cheese, cut into 8 strips
1/2 cup fine dry bread crumbs
1/4 cup grated Parmesan cheese
1 tablespoon chili powder
1/2 teaspoon salt
1/4 teaspoon ground cumin
1/4 teaspoon black pepper
6 tablespoons melted butter
Tomato Sauce (recipe follows)



Tomato Sauce

1 1-lb. can tomato sauce
1/2 teaspoon ground cumin
1/3 cup sliced green onions
1/4 teaspoon salt
1/8 teaspoon pepper
2-3 splashes of hot pepper sauce
Directions
Chicken
Slice chicken breasts in half to create 2 thinner chicken breasts. Pound each thinned chicken breast with a meat pounder to a 1/4-inch thickness. Place about 2 tablespoons of green chiles in center of each pounded breast, then top with 1 strip of cheese (place lengthwise). Roll chicken breasts up lengthwise, and fold open sides over, tucking in to close openings. Set aside.
In a small mixing bowl, whisk together bread crumbs, Parmesan cheese, chili powder, salt, cumin and pepper. Pour bread crumb mixture into a pie pan or shallow bowl. Pour melted butter into another pie pan or shallow bowl (if you have a glass pie pan, you can melt the butter in the pie pan in the microwave.) Place pie pans (or shallow bowls) next to each other near a rectangular or oblong baking dish, with the bread crumbs closest to the baking dish.
One at a time, roll each stuffed chicken breast into melted butter, then roll in bread crumb mixture. Place chicken rolls, seam side down, in baking dish and drizzle with any remaining melted butter. Cover and chill in refrigerator for 4 hours or overnight. (Note: If you prefer, you can seal with toothpicks and cook immediately, though some seepage might occur during cooking.)
Bake uncovered at 400 degrees 20 minutes or until done. Serve with Tomato Sauce (recipe follows).
Tomato Sauce
Combine tomato sauce, cumin, salt, pepper, hot pepper sauce and green onions in a small saucepan. Heat through and serve.
Other recipes you might like: