Chicken Broccoli Fettuccine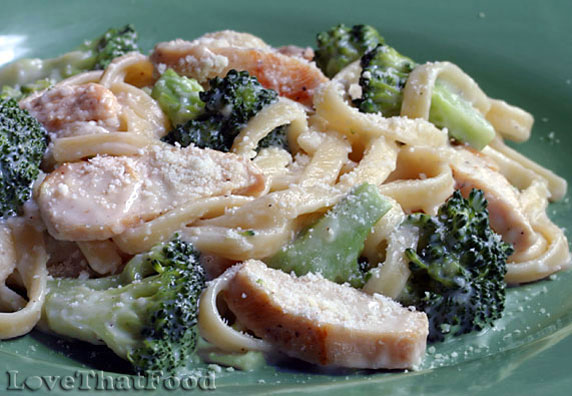 Tips:
Meat from a pre-cooked whole chicken or canned chicken breast meat may be used if preferred to save cooking time (about 10 minutes).
Chicken Broccoli Fettuccine is a delicious chicken and pasta dish you can whip up on your stovetop in about 20 minutes. This easy chicken and broccoli recipe
features thin tender pieces of chicken breast, bite-size broccoli florets and fettuccine noodles tossed with a delicious creamy cheese sauce made with a butter and flour roux, minced garlic, milk and a generous helping of Parmesan cheese. This is a great "last minute" meal to make when you find yourself in the kitchen with little time to spare after a long day, or simply want to serve something delicious that requires minimal preparation. The photo above shows Chicken Broccoli Fettuccine made with boneless, skinless chicken breasts, though canned cooked chicken breast meat or even light and dark chicken meat from a whole chicken can be used instead of the chicken breasts if you are pressed for time (though cooking the chicken breasts only takes about 10 minutes). This chicken dish also makes great leftovers, simply by reheating in the microwave for a minute or two.
Ingredients
1 tablespoon butter
1 tablespoon oil
2 boneless, skinless chicken breasts
8 oz. fettuccine (or 3 cups hot cooked fettuccine)
2 1/2 cups bite-size broccoli florets



Cheese Sauce

3 tablespoons butter
2 cloves garlic, minced
2 tablespoons all-purpose flour
2 cups milk
1/4 teaspoon salt
1/8 teaspoon pepper
3/4 to 1 cup grated Parmesan cheese (to preferred taste)
Directions
Cook fettuccine according to package directions. Drain in a colander and set aside. While fettuccine is cooking, cook broccoli (recipe follows).
Broccoli
Bring about 1 inch of water to a boil in a medium saucepan. Place broccoli florets in a vegetable steamer. Once water comes to a boil, reduce heat to medium-high and place vegetable steamer with broccoli in saucepan. Cover and cook for 5 minutes, or just until broccoli becomes crisp-tender. Quickly remove vegetable steamer from saucepan and set aside to stop cooking.
Chicken
Cut thickest portions of chicken breasts in half horizontally to make 2 thinner pieces (this helps chicken cook faster and more evenly). Heat butter and oil in a large skillet over medium-high heat and add chicken. Cook until lightly browned on both sides and cooked through (about 5--7 minutes per side). Turn off heat and transfer chicken pieces to a cutting board. Slice chicken into 1/4-inch-thick bite-size slices. Place chicken pieces in a bowl and cover with aluminum foil to keep warm.
Cheese Sauce
In a large saucepan, melt butter over low-medium heat. Add garlic to butter and cook for 1 minute. Add flour and whisk until thoroughly blended, creating a roux. Continue cooking while whisking for 1 additional minute. Gradually add milk to roux, whisking constantly, until thoroughly blended. Continue cooking on low-medium heat, whisking constantly until mixture begins to thicken (about 1 minute). Whisk in salt, pepper and Parmesan cheese until blended.
Add chicken, broccoli florets and fettuccine to sauce and toss gently until ingredients are coated. Heat for about 1-2 minutes. Serve. Top with additional grated Parmesan cheese if desired.
Other recipes you might like: