Pasta with Pesto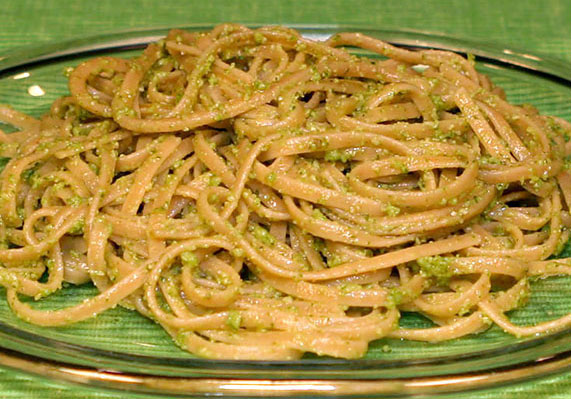 Tips:
After storing in refrigerator, while re-heating, add a little additional olive oil to thin sauce if needed.
Pasta with Pesto is one of those dishes that incorporates amazing flavor, healthiness, and simplicity all in one. It starts with your choice of pasta noodles, which can vary in both shape and
flavor. Photo above shows this dish made with whole grain linguine, but you can use other long noodles such as fettuccini and spaghetti, or any other shape as well.
Once you have chosen a pasta shape, it's a simple matter of placing the pesto ingredients into a food processor and blending them into a pureed consistency, then tossing them with your pasta. The ingredients are few, but together form an incredible sauce that has a fresh and distinctive flavor. Fresh basil leaves, grated Parmesan cheese, pine nuts and garlic are blended together while olive oil is added to create the perfect consistency. This sauce is then poured over your pasta and tossed to blend. Top with additional Parmesan cheese and serve with a side of garlic bread and a salad, and you'll have an unforgettable meal in a very short time! Stores well in the fridge and heats up quickly in the microwave.
Ingredients
2 cups fresh basil leaves
3 large cloves garlic
1/4 cup pine nuts
1/2 cup Parmesan cheese
1/3 cup olive oil
Directions
Cook pasta according to directions. When pasta is al dente (done, but not overly soft), drain and place in a large bowl.

While pasta is cooking, place basil leaves, garlic cloves, pine nuts and Parmesan cheese into food processor bowl and mix until mixture becomes crumbly. (Note: Stop once to scrape ingredients from sides of bowl and to move ingredients around on bottom to ensure blades are able to incorporate all ingredients.) While briefly mixing again, add olive oil through top opening of processor until thoroughly blended. Remove food processor top and stir briefly by hand to make sure oil and mixture are evenly combined, then pour over hot pasta and toss.

Top with additional Parmesan cheese.
Other recipes you might like: