Three Cheese Spaghetti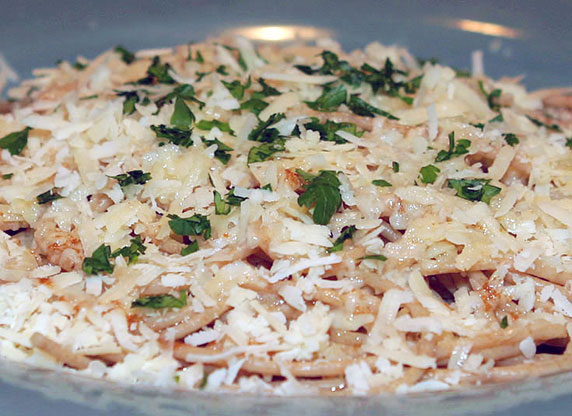 Cook Time:
About 12 minutes
Spaghetti without the sauce? Absolutely! This delicious Three-Cheese Spaghetti recipe entertains a flavorful blend of three grated cheeses
and browned melted butter, topped with fresh chopped parsley. It may sound a bit simple, but the magic is in the distinct flavors of each cheese as well as the lightly browned butter that's drizzled over the top. The cheeses used in with this spaghetti are Kasseri, Parmesan and Romano, all of which have powerful and lively flavor.
Making spaghetti without the sauce is a light and refreshing alternative to traditional spaghetti dishes that use some sort of pasta sauce or marinara and perhaps meat sauce or meat balls. Three-Cheese spaghetti is also one of those quick and easy dishes you can whip up in less than 15 minutes, and one that everyone will enjoy!
Ingredients
1 lb. spaghetti
1 cup butter
6 oz. Kasseri cheese, finely grated
4 oz. Parmesan cheese, finely grated
4 oz. Romano cheese, finely grated
1/4 cup flat parsley, chopped
Directions
Cook spaghetti according to directions until tender. While spaghetti is cooking, grate cheeses and mix together in a mixing bowl, then set aside.

About 1 minute before spaghetti is finished cooking, melt butter in large skillet and cook on medium heat until it turns a medium brown color, then quickly remove from heat. Once spaghetti is done, drain through a collander and place on serving platter or dish. Sprinkle spaghetti noodles with cheeses, then drizzle with browned butter. Sprinkle even more cheese on top if desired. Top with chopped fresh parsley.
Other recipes you might like: