Orzo, Feta and Bean Salad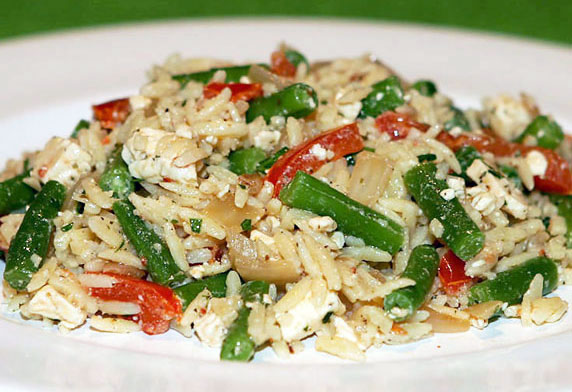 Cook Time:
About 20 minutes
Tips:
Tomato & basil-flavored feta cheese adds wonderful flavor to this recipe!
Suggestion:
Delicious as a meatless main course or a side dish.
This Orzo, Feta and Bean Salad recipe delivers an unexpected flawless marriage of fresh and colorful ingredients with flavors and textures that truly deliver! This pasta salad features a combination of orzo (rice-shaped pasta),
blanched green beans, tomatoes, sautéed onions and feta cheese. These tasty ingredients are tossed with a simple mixture of white wine vinegar or rice vinegar, freshly chopped Italian parsley (also known as flat-leaf parsley) and some salt and pepper to taste, giving this salad the perfect tangy flavor enhancement.
The green beans are only briefly cooked to make them tender to the bite, while still retaining a fresh and crisp texture as well as vibrant green color. When considering which feta cheese to purchase for this salad, you can opt for plain or herbed feta cheese (the photo above shows this salad made with tomato and basil-flavored feta cheese, which adds wonderful flavor). Orzo, Feta & Bean Salad can be served as a meatless main course, a side dish, and is fabulous for serving at social events, due to its vibrant flavor, originality and eye appeal.
Ingredients
1/2 – 3/4 lbs. green beans
1 cup orzo (rice-shaped pasta)
1 medium onion, chopped
2 garlic cloves, minced
3 tomatoes
2 tablespoon olive oil
1 tablespoon white-wine or rice vinegar
1 tablespoon chopped fresh flat-leafed parsley leaves
1 cup crumbled feta cheese (plain or herbed)
Salt and pepper to taste
Directions
Fill a 2-quart saucepan 3/4 full with salted water and bring to a boil for beans and orzo. After mincing garlic and chopping onion, quarter tomatoes and remove all seeds. Cut quarters lengthwise into 1/4-inch thick slices. Set aside. Trim beans and cut into 1-inch pieces. Set aside.

In a large skillet, cook onion for about 2 minutes, then add garlic and cook for 1 more minute or until onion is tender and garlic is lightly browned. Add tomatoes and cook, stirring, for 1 minute. Quickly remove skillet from heat and place mixture in a large mixing bowl.

Prepare a bowl of ice and cold water. In boiling salted water, blanch beans for 5 minutes. With a slotted spoon, transfer beans to ice water to stop cooking. Drain beans well in a colander, then pat dry with a cloth or paper towel. Add beans to onion, garlic and tomato mixture. Set aside.

Return water in saucepan to a boil. Pour in orzo and boil until al dente, then and drain in colander. Add orzo to bean mixture along with vinegar, parsley, feta, and salt and pepper. Toss to combine well.
Other recipes you might like: