Chicken Panini Tapenade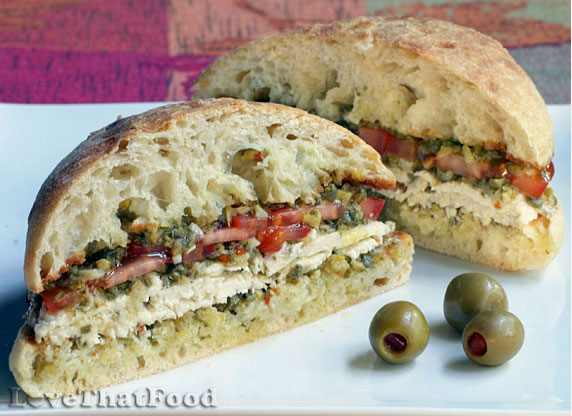 Tips:
Tapenade can be made in advance and refrigerated until ready to use.
Suggestion:
Delicious served with any green or potato salad. Quick Tip: Breast meat from a pre-roasted whole chicken may be used to save time (lemon and/or garlic flavored chicken is recommended for best flavor).
Chicken Panini Tapenade has amazing flavors that are likely like no other chicken sandwich you have ever tasted. This panini recipe features thin slices of roasted lemon and garlic-marinated chicken breasts and sliced tomatoes sandwiched in between two slices of Italian-style sandwich rolls. The rolls are generously spread with a tangy and unbelievably delicious tapenade, an olive spread made of finely chopped pimento-stuffed green olives, capers, lemon zest and garlic
combined with freshly squeezed lemon juice and olive oil. This recipe also includes instructions on how to roast chicken breasts with a marinade that perfectly compliments the flavors of this sandwich. However, if you are pressed for time, you can also purchase a pre-roasted chicken from the store (preferably one flavored with lemon and/or garlic) and use the breast meat from that instead of roasting your own chicken breasts (though roasting your own is actually very easy and takes only 40-45 minutes).
For convenience, the tapenade can be prepared in advance and stored in the fridge until you're ready to use it. Lastly, when shopping for sandwich rolls for this chicken panini recipe, the best type of bread to choose is an Italian-style bread that has a chewy, spongy and hearty texture, like Ciabatta (shown in photo above). Ciabatta has the perfect flavor and texture for this sandwich, and has air pockets throughout that capture the tapenade nicely. It doesn't matter what shape of sandwich rolls you choose, whether square (as shown in photo, cut diagonally), oblong, round or rectangular. What truly counts is the texture and flavor of the bread!
Ingredients
2 skinless and boneless chicken breasts
2 tomatoes
salt and pepper
4 sandwich rolls (square, round, oblong or rectangular), split into halves



Chicken Marinade

1/4 cup freshly squeezed lemon juice
1 tablespoon olive oil
1 tablespoon melted butter



Tapenade

7 green pimento-stuffed olives, coarsely chopped
1 clove garlic, peeled and coarsely chopped
2 tablespoons drained capers
zest of 1 lemon
3 tablespoons olive oil
1/4 cup freshly squeezed lemon juice
salt and pepper
Directions
Chicken Marinade
Combine all marinade ingredients in a small mixing bowl and whisk until thoroughly blended. Set aside.
Chicken
Rinse chicken breasts under cold running water, then pat dry with a paper towel. Pierce breasts numerous times on both sides with tines of a fork (this helps marinade to penetrate chicken). Season lightly with salt and pepper. Place breasts in a plastic bag and pour marinade into bag with chicken. Gently squeeze out as much air from the bag as possible, then tie bag into a tight knot to seal. Refrigerate for 30 minutes to overnight.
When ready to roast chicken, preheat oven to 450° F.
Remove chicken breasts from bag, reserving marinade in bag. Place chicken breasts in a 9x9-inch baking dish, then pour all marinade from bag into a small saucepan and set aside. Place baking pan with chicken breasts in the oven and bake. After 30 minutes of baking, heat marinade in saucepan over medium-high heat for 2 minutes. Turn chicken breasts over and pour heated marinade over chicken and cook for an additional 10-15 minutes, or just until done. (Tip: Making a small cut into thickest portion of one breast will reveal no pink color when chicken is done.) Remove chicken from oven and set aside.
Tapenade
On a chopping board, combine the green olives, garlic, capers and lemon zest. Chop finely. Transfer olive mixture to a small mixing bowl. in a small jar, combine the olive oil and lemon juice shake until combined (alternatively, you can whisk these ingredients in a small mixing bowl). Pour lemon juice mixture over olive mixture and add salt and pepper to taste. Stir to combine. If not using right away, cover and refrigerate until ready to use.
Sandwich Assembly
Thinly slice chicken breasts and tomatoes to about 1/8-inch thick slices. Set aside.
(Note: Sandwich rolls can be served soft or broiled (insides only) to a light brown. If you opt to broil sandwich rolls, broil insides just until lightly browned.
Spoon some tapenade evenly over insides of bottom roll halves, reserving enough tapenade for two more applications for each sandwich. Place chicken breast slices over spread on bottom halves, then spoon a small amount of tapenade evenly over the chicken. Arrange tomatoes on top of the chicken slices. Spoon remaining tapenade over the insides of top halves of the rolls. Place top halves over tomato and chicken slices and press down lightly. Cut panini into halves and serve.
Other recipes you might like: