Bacon Cheddar Melt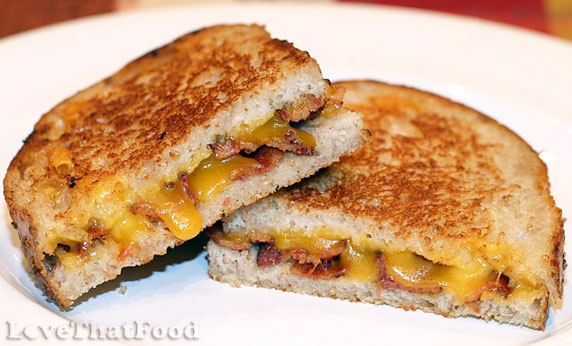 Yield:
1 sandwich (simply repeat recipe for additional sandwiches)
Cook Time:
About 15 minutes
Tips:
1 lb. of bacon will produce 3-4 sandwiches. If using slices of bread from a round sourdough loaf, using a long spatula works best for flipping sandwich over.
Suggestion:
Serve with a leafy or potato salad, chips, dill pickle slices or any other preferred side dish and/or garnish.
There are some sandwich recipes that many of us have made so many times that we can easily whip them up in just a matter of minutes, almost blindfolded. For some, this Bacon Cheddar Melt
might just be one of those sandwiches - but for those of you who have never tried a grilled bacon cheese sandwich, this recipe is for you!
The photo above shows this Bacon Cheddar Melt made with whole grain sourdough bread, hickory smoked bacon and sharp cheddar cheese, but you can certainly customize this sandwich to your own heart's desire! For instance, a different type of cheese can be used, or some avocado and tomato slices can be added before grilling if you like more goodies with your sandwich (though these sandwiches are fabulous with bacon and cheddar cheese alone). This recipe is written for a single sandwich serving, so if you will be serving more than one, simply repeat the recipe for as many sandwiches as you will be serving. If planning for more than one sandwich, keep in mind that one pound of bacon will provide enough bacon for 3-4 sandwiches (depending on the size of the bread slices).
Ingredients
2 large slices of sourdough from round loaf (or any other bread)
4-5 slices bacon (depending on size of bacon slices)
enough slices of cheddar cheese (or other cheese) to cover one slice of bread
butter (about 1-2 tablespoons)
Directions
Cook bacon until done and drain on a few paper towels. Set aside. Lightly butter both outsides of bread slices. Place bacon slices lengthwise on the unbuttered side of one of the bread slices, then top with thin slices of cheese (about 1/8-inch thick) until entire piece of bread and bacon are covered. Place other buttered bread slice on top of bacon and cheese-covered slice (both buttered sides on the outside).

Preheat a large nonstick skillet over medium heat. Once skillet is hot, place entire sandwich in skillet and gently press on top of sandwich with a spatula for a few seconds to ensure entire slice of bread is evenly touching the skillet. Allow to grill for about 1 minute, occasionally lifting one side of the bread to check doneness. Once bottom slice of bread appears browned, slip spatula (Tip: If using long sourdough slices, a long spatula works best) under entire sandwich (lengthwise for long bread slices), and carefully flip sandwich over while holding the top slice of bread in place with your other hand, being careful to not touch skillet. If any bacon or cheese slip out while flipping over, simply tuck back into sandwich (again, being careful not to touch skillet). Grill again for another minute or so, or until bread appears nicely browned.

Remove sandwich and place on cutting board, then cut in half and serve.
Other recipes you might like: