Crispy Chicken Sandwich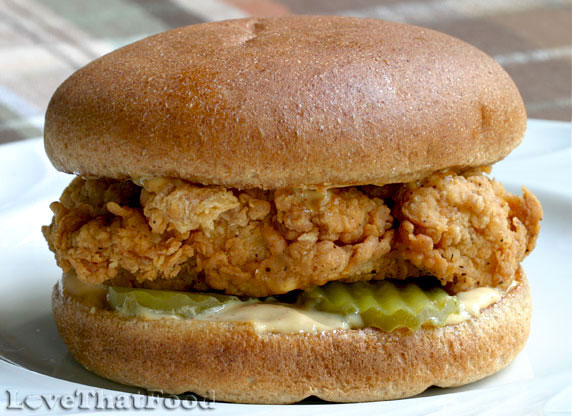 Tips:
Spread may be used as a dipping sauce for leftover chicken pieces (see recipe description for more details).
Suggestion:
Use with any type of hamburger or sandwhich bun. Delicious served with potato chips, coleslaw or potato salad.
In less than 15 minutes, you can easily make your own hot and fresh Crispy Chicken Sandwich in your own kitchen! This Crispy Chicken Sandwich recipe features a seasoned chicken breast that has been dipped in an egg and milk wash, then coated with a flour and cornmeal mixture seasoned with a variety of spices.
The chicken breast is then deep fried (in a deep fat fryer or skillet on your stovetop) until golden brown, light and crispy and placed in any sandwich-style bun of your choice (the above photo shows this sandwich made with whole wheat hamburger buns). What really tops off this amazing sandwich is the tangy and smoky sauce, which is made with a combination of ingredients that create the perfect complimentary flavor for this sandwich. You can add a little spice to this sandwich if you like, simply by seasoning the chicken with additional black pepper and/or cayenne pepper and/or by adding additional black pepper and/or cayenne pepper to the flour  mixture. The sauce included with this recipe can also be used as a dipping sauce, which comes in handy for any leftover fried chicken pieces that didn't make their way into a bun. If desired, you can thin the sauce simply by stirring in a small amount of water (1/2 teaspoon-at-a-time) until desired dipping consistency is reached.
Ingredients
Sauce

1/2 cup mayonnaise
1 teaspoon prepared mustard
4 teaspoons (1 tablespoon plus 1 teaspoon) prepared barbeque sauce
2 dashes cayenne pepper
2 dashes paprika
2 dashes onion powder
2 dashes garlic powder
2 dashes dry mustard powder
1 dash turmeric
1/2 teaspoon salt
1 teaspoon sugar
1/2 teaspoon apple cider vinegar
1/2 teaspoon distilled vinegar
1/2 teaspoon freshly squeezed lemon juice
1/8 teaspoon liquid smoke (hickory or mesquite flavored)



Sandwiches



4-6 hamburger buns (any style)
2 boneless, skinless chicken breasts
salt, black pepper and cayenne pepper to taste
hamburger-style dill pickle chips



Chicken Coating

1 large egg
2 tablespoons milk
1 cup all-purpose flour
2 tablespoons cornmeal
1/2 teaspoon salt
1/4 teaspoon ground black pepper
1/4 teaspoon cayenne pepper
1/2 teaspoon garlic powder
1/4 teaspoon mustard powder
1/4 teaspoon onion powder
Directions
Sauce
Whisk together all sauce ingredients in a small mixing bowl until smooth and combined and chill in refrigerator while preparing chicken.
Chicken
Slice both chicken breasts in half horizontally to create 4 thinner chicken breasts pieces. One at a time, place each chicken piece in between 2 sheets of wax paper. Pound gently with a meat pounder until chicken pieces have even thickness throughout and are about to 3/8 to 1/2-inch thick. Cut pieces into sizes that match the size of buns you are using. (Note: Any smaller chicken pieces can be served together in one sandwich or eaten separately without a bun as chicken nuggets or strips, dipped in the sauce.) Season all chicken pieces on both sides with salt, pepper and cayenne pepper to taste.
Heat deep fat fryer to 375° F. (Alternatively, heat enough oil in a large skillet to nearly or entirely cover chicken breasts (1 to 1 1/2 inches deep). While oil is heating, prepare coating for chicken (directions follow).
Chicken Coating
In a shallow bowl or pie pan, beat together egg and milk. Set aside near cooking area. Place flour, cornmeal, salt, black pepper, cayenne pepper, garlic powder, mustard powder and onion powder in another shallow bowl (or pie pan) and whisk or stir to combine. Set bowl of flour mixture next to bowl of egg and milk mixture, with the bowl of flour being the closest to your oil.
Cooking Chicken
When the oil is ready, one at a time, dip chicken pieces in the flour mixture to coat both sides, then dip into the egg mixture, coating both sides. Dip again into flour mixture, generously coating both sides (pressing onto chicken if necessary), then gently lower into hot oil. (Note: Cook as many pieces of chicken as will comfortably fit without crowding.)
Cook until golden brown and crispy and cooked through (about 3-5 minutes). (Note: If using a skillet and oil does not cover top of chicken, turn chicken over after about 3 minutes and cook other side for another 3 minutes or so.) Remove chicken from oil and place on a plate with a few stacked paper towels (to drain).
Assembly
Broil insides of buns until lightly toasted (broiling is optional, though recommended). Spread about 1 tablespoon (or as desired) of sauce on inside of bottom toasted bun, then place enough sliced hamburger dill pickle chips on top of sauce to cover entire surface. Place a piece of fried chicken on top of spread and pickle chips. Apply additional spread to the inside of top bun, then place bun on top of chicken. Serve immediately (with additional sauce on the side, if desired).
If desired, serve any leftover pieces of chicken with a small bowl of sauce on the side for dipping. (If desired, sauce may be thinned with a small amount of water (1/2 teaspoon at a time) until desired consistency is reached.
Other recipes you might like: