Hummus Chicken Salad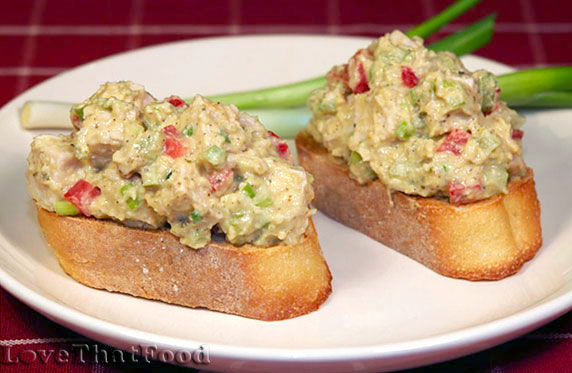 Cook Time:
None, unless you choose to cook your own chicken, which takes about 10 minutes.
Tips:
Any flavor of hummus may be used. May be served as a chicken salad sandwich on bread, or as a chicken salad over salad greens.
Suggestion:
Garnish with any number of fresh vegetables and/or fresh fruit, if desired.
Hummus Chicken Salad is a very easy chicken salad recipe and a wonderful twist to the traditional
chicken salad. Most chicken salad recipes are made with mayonnaise, sometimes along with a few other diced ingredients and seasonings. This chicken salad is made with hummus rather than mayonnaise, giving it light and refreshing taste as well as healthful benefits. Diced celery, green onions and red bell pepper are also added into the mix, providing a fresh and tasty crunch with every bite.
You can use any flavor of hummus with this recipe, giving it your own personal flair. Photo above shows this recipe made with garlic and artichoke-flavored hummus. This easy chicken salad recipe can be served on bread as a chicken salad sandwich (as shown above), or served atop lettuce greens. This salad can also be made with turkey, which comes in very handy for those Thanksgiving and Christmas turkey leftovers!
Ingredients
1/2 cup hummus (any flavor)
2 tablespoons finely diced celery
1 tablespoon finely chopped green onions
1 tablespoon finely chopped red bell pepper
1/4 teaspoon salt
freshly ground black pepper
1 cup cubed (1/2 inch) grilled chicken breast (about 2 boneless breast halves)
1 tablespoon water
1 teaspoon finely chopped fresh parsley, for garnish (optional)
bread or salad greens for serving
Directions
In a large mixing bowl, combine hummus, celery, green onions, bell pepper and salt and pepper to taste. Add chicken and water and stir just until thoroughly blended.

If desired, garnish with a light sprinkle of chopped fresh parsley. Serve open faced on toasted or untoasted bread, sandwiched between 2 slices of bread, or on top of salad greens.
Other recipes you might like: