Chicken
Chicken is probably the most popular meat of all. With such a large variety of ways to prepare chicken and the fact that it is light, versatile, low in calories, healthy and delicious, its popularity is understandable. As shown in the list of chicken recipes below, chicken can be served in an endless variety of ways, such as chicken with sauces, chicken pasta dishes, chicken casseroles,
chicken curry, chicken enchiladas, Asian chicken dishes, chicken soups, chicken lettuce wraps, chicken salads, and the list goes on and on! Cooking methods for chicken can also vary, such as roasting or baking chicken, grilling chicken, frying chicken, deep frying chicken and stir-frying chicken - each cooking method producing its own unique texture and flavor. Whether you're searching for a recipe for fried chicken, baked chicken, grilled chicken, slow-cooker or any other cooking method for chicken, you can't go wrong. This page lists recipes for chicken dishes as well as chicken salads. If you're specifically looking for salad recipes, you'll find chicken salads and more on the
Salads
page. If you're browsing for soup recipes the
Soups and Stews
page has a variety of chicken soup recipes as well as plenty of other soup recipes. Most recipes you'll find on this page were made with skinless boneless chicken breast meat, though if you prefer dark chicken meat, you can certainly use dark meat instead of light (or a combination of both).
Chicken Recipes ▼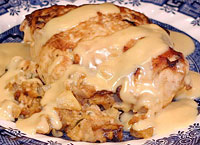 This is a truly unique, fabulous and elegant skillet
chicken recipe
with gourmet flavor! Chicken breasts are pounded down to a 1/4-inch thickness then rolled around a mixture of bread crumbs, chopped apples, diced onions, parsley, some half and half cream and seasonings. After a quick browning in the skillet, the stuffed chicken breasts simmer in the skillet for 30 minutes in an orange juice and chicken bouillon mixture.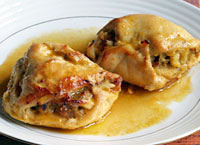 Stuffed Chicken with Tangerine Sauce
is a light and flavorful dish made with flattened chicken breasts stuffed with seasoned bread stuffing, tangerine zest, tangerine pieces, slivered almonds, diced green onions and thyme. These stuffed chicken breasts are topped with freshly squeezed tangerine juice that beautifully blends with with the natural juices from the chicken and seasoned stuffing during baking and is dished over the servings.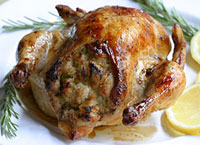 This
Stuffed Cornish Hens with Rosemary & Lemon recipe
features Cornish hens stuffed with a savory rosemary and sage-seasoned stuffing combined with diced onions and celery that have been sautéed in butter. The little birds are basted throughout the baking process (and when served) with a delicious buttery rosemary and lemon sauce, adding moisture and giving them a fresh and citrusy flavor.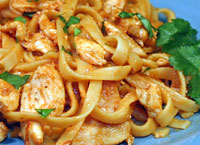 This
easy chicken recipe
features thin slices of chicken breast and fettuccine noodles tossed with a sauce made with peanut butter, honey, picante sauce (or other salsa), orange juice, soy sauce and ginger. The beauty of this Thai Chicken Fettuccine recipe is that you can make it mild or spice it us by adding some Chili Garlic Sauce, or by choosing medium or spicy picante sauce (or other salsa).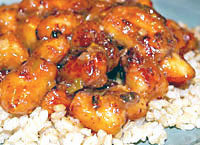 This
Very Orange Chicken recipe
derives its name from the fact that it has authentic and powerful orange flavor. Orange juice and generous amounts of orange and lemon zest give this stir-fry dish a fresh and powerful citrus flavor. The flavor elements are further enhanced by red pepper flakes, chopped green onions, rice vinegar, fresh ginger root, brown sugar and minced garlic. This dish is great alone or over rice.