Stuffed Cornish Hens with Rosemary and Lemon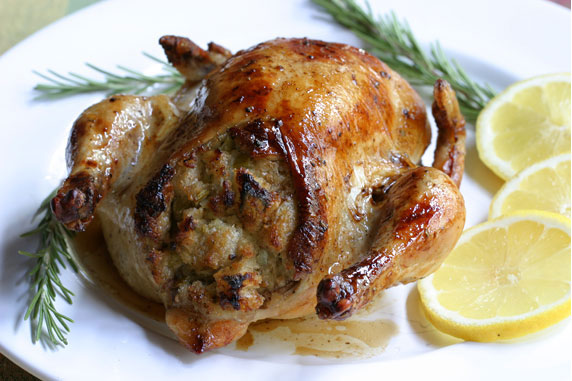 Yield:
4 cornish hens or 1 large fryer
Cook Time:
1 to 1 hour, 15 minutes
Tips:
Baste birds every 15 minutes or so for optimum moisture and flavor. A large fryer chicken may be used instead of 4 Cornish hens.
This Stuffed Cornish Hens with Rosemary and Lemon recipe features Cornish hens (also called Cornish game hens, Rock Cornish hens, Rock Cornish or poussin) are stuffed
with a savory rosemary and sage-seasoned stuffing combined with diced onions and celery that have been sautéed in butter. These little birds (which are actually not at all game birds, but small hybrid whole chickens) are basted throughout the baking process with a delicious buttery rosemary and lemon sauce, adding moisture and giving them a fresh and citrusy flavor. Once baked, the hens are brushed with a sauce made from the pan drippings, adding even more succulence and flavor, as well as a beautiful glistening shine. It only takes 1 to 1 hour and 15 minutes to cook Cornish hens, and preparation is just as easy because they are so small. These petitechickens are perfectly sized to serve as individual servings, and provide a great way to present an impressive and elegant gourmet mini feast!
Ingredients
Basting Sauce

4 tablespoons (1/2 stick) butter
1/4 cup freshly squeezed lemon juice
1 teaspoon minced fresh rosemary or 1/4 teaspoon dried crushed rosemary
1/8 teaspoon (or 2-3 splashes) hot pepper sauce (such as Tabasco)
1 teaspoon Worcestershire sauce



Stuffing

2 tablespoons butter
1/3 cup diced celery (about 1 stalk)
1/3 cup diced onion
6 cups firm bread (sour dough or other bread) cut into 1/2-inch cubes
1 teaspoon minced fresh rosemary OR 1/4 teaspoon dried crushed rosemary
1 teaspoon minced fresh sage OR 1/4 teaspoon dried crushed sage
1/2 teaspoon salt
3/4 to 1 cup chicken broth or water



Cornish Hens

4 Cornish hens
salt and pepper to taste
Directions
Preheat oven to 350° F.
Basting Sauce
In a small saucepan, melt butter. Whisk in lemon juice, rosemary and hot pepper sauce. Set aside.
Stuffing
In a small skillet or saucepan, melt butter. Add celery and onions and sauté on low-medium heat until tender (about 3-4 minutes). Set aside. Place bread cubes a mixing bowl and add rosemary, sage, salt, 3/4 cup of the chicken broth and sautéed celery and onions along with any butter remaining in pan. Toss to thoroughly combine. If bread cubes still seem a little dry, add up to an additional 1/4 cup of chicken broth and stir again to combine. (Bread cubes should be very moist but not soggy.) Set aside.
Cornish Hens
Rinse Cornish hens thoroughly inside and out with cold running water, then allow to drain completely. Spray a roasting rack with nonstick spray, then place hens on roasting rack over a roasting pan and season with salt and pepper. Brush insides of hens with Basting Sauce, then spoon stuffing into each hen through the neck cavity. Brush outsides of hens with more Basting Sauce, then place on middle rack in oven, uncovered, and cook for 1 to 1 hour 15 minutes, depending on size of hens (refer to Cornish hen package instructions for specific baking details). Baste hens every 15 minutes until done (hens will be a medium brown and the legs might be on the verge of becoming detached when done).
Remove hens from oven and place on individual serving plates. Remove top rack from roasting pan. Add Worcestershire sauce to juices in roasting pan and stir to combine. Baste each hen again with juices from pan and serve.
Other recipes you might like: