Chicken and Avocado Salad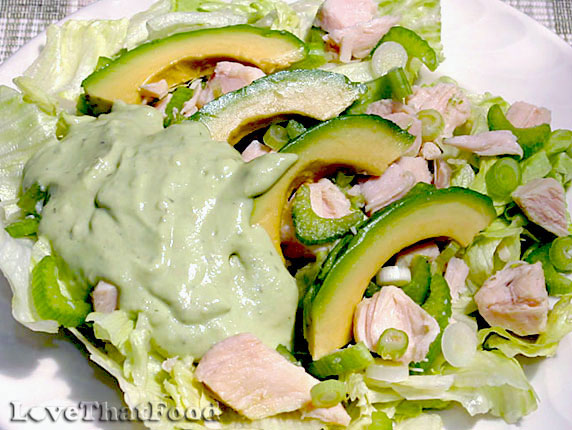 Tips:
For added zest, sprinkle a little lemon pepper over salad.
Suggestion:
Delicious served with a side of
bread
.
This Chicken & Avocado Salad recipe is fresh and satisfying, and features a pretty variety of green colors. This delicious salad is made with chicken breast chunks, thinly sliced celery and green onions in a bed of crispy iceberg lettuce.
It is then topped with a delightful light and creamy avocado dressing that's flavored with lemon juice and fresh dill. At first glance, you would think that topping a salad made with with slices of avocados with an avocado salad dressing would be a bit of an avocado over-kill. That is surely not the case with this wonderful salad! This avocado dressing is not too rich, and with just the right combination of ingredients, perfectly compliments all ingredients in this salad, including the avocados.
Avocados are packed with vitamins and minerals. They also are a great source for omega 3 fatty acids. For the best results when making this salad, take your time in choosing avocados that are ripened, but in the early stages of softening. This way, you will end up with a vibrantly green salad that not only tastes fresh, but it please the eyes.
Ingredients
Dressing

2 ripe avocados
1/2 cup sour cream
1/3 cup mayonnaise
1 tablespoon freshly squeezed lemon juice
1/2 teaspoon fresh dill weed (or 1/4 teaspoon dry dill)



Salad

1 head iceberg lettuce
2 cups cubed chicken breast meat (canned or cooked and cut into cubes)
1 cup celery, thinly sliced (about 1/8-inch-thick pieces)
3 tablespoons thinly sliced green onions (about 1/8-inch-thick pieces)
1 ripe avocado, halved, peeled and sliced into 12 crescents
Directions
Dressing
Remove peels and seeds from avocados. In a medium mixing bowl, combine all ingredients, and with an electric hand-held mixer, blend on medium until mixture is smooth and creamy with no lumps. Serve with salad, as a dip for raw vegetables, or as a garnish for other dishes.
Salad
In a medium mixing bowl, combine chicken, celery and onion and gently toss. Place an iceberg lettuce leaf on each of the 4 serving plates. Tear enough lettuce leaves for 4 servings (about 1 1/2 - 2 cups per serving or more or less if you like), and place on top of each whole lettuce leaf. Mound chicken mixture on top of torn lettuce leaves. Place 3 avocado crescent slices on top of salad, then each salad with equal portions of the dressing.
Other recipes you might like: