Crispy Chicken Salad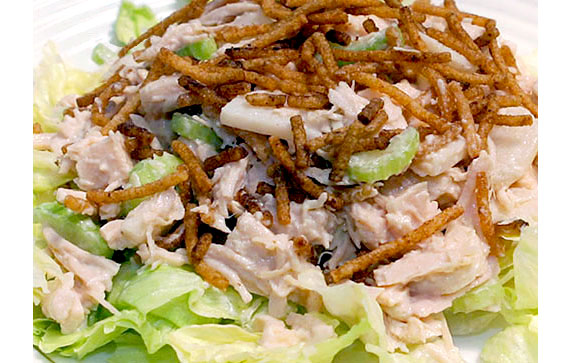 Tips:
Use only as much lettuce as needed for servings.
Suggestion:
Delicious served with a side of
bread
.
Crispy Chicken Salad is incredibly easy to make and surprisingly light and delicious. This salad recipe features tender chunks of chicken breast, thinly sliced celery, sliced water chestnuts and crispy chow mein noodles. This light salad is then mixed with a creamy salad dressing made with mayonnaise, a hint of Worcestershire sauce
and a dash of onion powder and served over a bed of crisp iceberg lettuce leaves. It is then topped with crispy chow mein noodles that have quickly been baked with butter and Worcestershire sauce, giving these chow mein noodles a zesty flavor and crunch that pulls this delightful salad together.
The photo above shows this salad made with canned chicken breast, which is one of the secrets of this salad being so easy to put together. You can, however cook your own chicken breasts using any cooking method you prefer, then simply cube or shred the chicken into bite-size pieces. Keep in mind this will add a little more cooking time to the preparation of this recipe. Use only as much lettuce as needed, depending on how many you will be serving. The chicken mixture stores nicely in the refrigerator, so you can quickly prepare this salad again on a moment's notice.
Ingredients
2 tablespoons butter
4 tablespoons Worcestershire sauce, divided
3 cups (or 6 oz.) canned crispy chow mein noodles, divided
1/2 cup mayonnaise
1/2 teaspoon salt
pinch onion powder
6 cups cooked, cubed chicken
1 1/2 cups thinly sliced celery
1/2 cup sliced water chestnuts
iceberg lettuce, torn into bite-size pieces (use as much as is needed)
Directions
Preheat oven to 300° F.
Crunchy Noodles
In microwave oven, melt butter in a shallow 9x9-inch casserole dish. Add 2 tablespoons of the Worcestershire sauce and mix in with butter. Add chow mein noodles and stir to thoroughly coat. Place in oven and bake for 20 minutes, stirring twice during cooking. Remove from oven and set aside to cool.
Dressing
In a small mixing bowl, add remaining 2 tablespoons Worcestershire sauce, mayonnaise, salt and onion powder and mix with a fork until smooth and well-blended. Set aside.
Salad
In a large mixing bowl, add chicken chunks, sliced celery, sliced water chestnuts and 1/2 of chow mein noodles and toss gently to combine. Add dressing to chicken mixture and toss again gently to coat. Spoon salad over a plate of torn iceberg lettuce leaves and top with additional chow mein noodles as desired.
Other recipes you might like: