Chinese Chicken Salad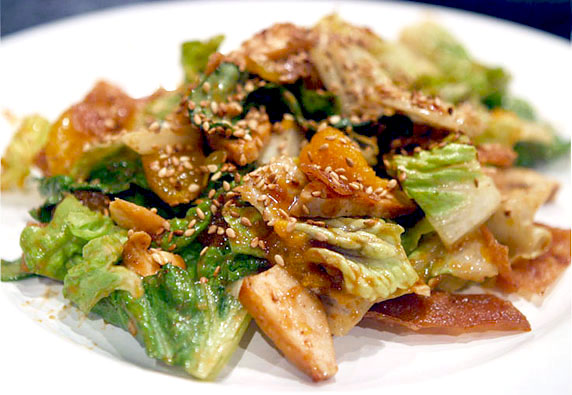 Tips:
If you prefer the firmness of fresh fruit in your salad rather than the canned version, you can use fresh Clementines (available at most markets).
Suggestion:
Delicious served with Hawaiian style bread rolls (soft or toasted).
This easy recipe for Chinese Chicken Salad has fresh sweet and tangy flavor and delivers a vibrantly colorful presentation! The dressing for this chinese salad
is made with the perfect blend of Asian spices and other ingredients, including peanut butter, hoisin sauce, rice or wine vinegar, oil and honey, along with garlic seasoning and salt and pepper. The salad ingredients consist of romaine lettuce, sliced chicken, mandarin oranges and crispy wonton strips or crispy chow mein noodles. (Note: Canned or fresh mandarin oranges may be used. Fresh mandarin oranges can be found in grocery stores, and are commonly called "clementines,") Wonton strips and crispy chow mein noodles can be purchased at most grocery stores - or you can cut wonton wrappers into strips and fry your own for truly fresh flavor with that homemade crisp. However you choose to prepare this Asian salad, it will not disappoint! As a final touch, top with toasted sesame seeds for added crisp and visual appeal.
Ingredients
Salad

2 16 oz. bags romaine lettuce or equivalent in fresh romaine
3 cups shredded cooked chicken breast
2 11 oz, cans mandarin oranges, completely drained - OR - 4 fresh peeled and sectioned Clementines
2 cups Asian wonton strips or chow mein noodles (store bought or homemade)



Dressing

1/4 cup peanut butter
1/4 cup hoisin sauce
3 tablespoons oil
3 tablespoons rice or wine vinegar
1 tablespoon chili garlic sauce
1 teaspoon garlic powder
1 teaspoon honey
salt and pepper to taste
Directions
In a large salad bowl, toss the lettuce, chicken and mandarin oranges. Toss in 1 cup of the wonton strips (reserve the remaining cup for topping). Whisk together the dressing ingredients. Pour over the salad. Top with the reserved wonton strips.
Other recipes you might like: