Shrimp Salad with Jicama and Carrot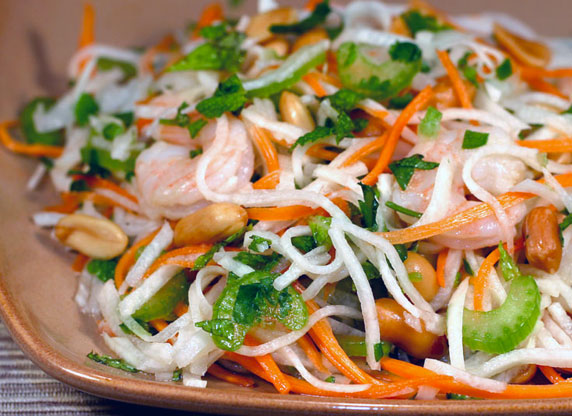 Tips:
May be made with chicken breast chunks instead of shrimp. If desired, you can increase shrimp (or chicken) to 1 lb. and increase peanuts to 1/2 cup.
Shrimp Salad with Jicama & Carrot is light and refreshing, and made with some unexpected salad ingredients that will pleasantly surprise you. If preferred, this shrimp salad recipe can also be made with chunks of cooked chicken breast.
This colorful salad is made with fresh julienned jicama and carrots, sliced celery, chopped mint and cilantro, minced mild serrano chile peppers and peanuts, and is tossed with a light yet distinct Thai-style dressing made with freshly squeezed lime juice, a little sugar and some fish sauce (Thai or Vietnamese). If you have never tried jicama before, this is a great place to start. Jicama is a large root with a texture similar to a radish or a potato. It has a mildly sweet taste and a juicy and delicious crunch. Some describe the flavor and texture of jicama as a cross between an apple and a raw potato. Jicama is great alone, with dips, and in this case, a great accompaniment to salad. Feel free to add up to 1 full pound of shrimp or chicken if you prefer, depending on your personal preference. You can also increase the peanuts up to 1/2 cup, if desired.
Ingredients
Salad

1 large jicama, peeled and julienned
1 large carrot, peeled and julienned
2 stalks celery, thinly sliced
1/4 cup chopped fresh mint leaves
1/4 cup chopped fresh cilantro
2 serrano chilies, seeds removed, then minced
1/2 - 1 lb. small deveined, cooked shrimp, tails removed
1/3 - 1/2 cup salted peanuts

Dressing

6 tablespoons freshly squeeze lime juice
2 tablespoons sugar
2 tablespoons Thai or Vietnamese fish sauce
Directions
After julienning jicama, place between a few folded paper towels and squeeze to remove excess moisture. In a large mixing bowl, combine jicama, carrot, celery, mint, cilantro, chiles, shrimp and peanuts. Toss to combine.

In a small mixing bowl, whisk together Dressing ingredients, then pour over salad ingredients and toss to thoroughly coat. Serve.
Other recipes you might like: