Lemon Garlic Shrimp with Fettuccine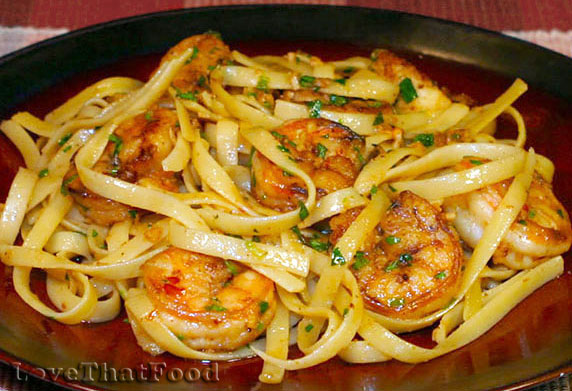 Cook Time:
About 10 minutes
Tips:
You can peel and devein shrimp a day or two in advance and store in refrigerator until ready to cook.
Suggestion:
Serve with a green salad and garlic bread or Cheese & Garlic Breadsticks.
Lemon Garlic Shrimp with Fettuccine is a light, elegant and wonderfully flavored dish that features large shrimp and fettuccine noodles tossed with a buttery sauce
made with lemon, garlic, white wine and spices along with chopped fresh parsley and green onion tops. Small amounts of red pepper flakes and cayenne pepper are also added for the perfect amount of peppery spice.
This fabulous seafood pasta dish cooks in a very short time and couldn't be easier! For more convenience, you can peel and devein the shrimp a day or two in advance and store it in the refrigerator until you're ready to cook, or simply purchase shrimp that has already been peeled and deveined. The photo above shows this dish made with fettuccine noodles, but you can also use other long noodles, such as spaghetti or linguine. Serve with a green salad and a side of Garlic Bread or Cheese & Garlic Breadsticks, and you've got a complete gourmet and unforgettably delicious meal!
Ingredients
1 lb. fettuccine noodles
1 1/4 lbs. large shrimp, peeled and deveined
4 tablespoons butter, divided
1 tablespoon olive oil
1 tablespoon minced garlic
1/4 cup freshly squeezed lemon juice
1/4 cup white wine
1/2 teaspoon salt
1/4 teaspoon ground pepper
1/4 teaspoon onion powder
1/8 teaspoon cayenne pepper
1/2 teaspoon red pepper flakes
2 tablespoons finely chopped parsley
2 tablespoons finely chopped green onions (green tops only)
Directions
In a small bowl, combine salt, pepper, onion powder, cayenne pepper, red pepper flakes, parsley and green onions. Set these pre-mixed spices and herbs aside near cooking area.

Start cooking fettuccine noodles according to package directions.

While noodles are cooking, heat a large skillet over high heat. When skillet is hot, add 2 tablespoons of the butter and the oil and heat until hot. Add shrimp and cook for about 2 minutes on each side until shrimp has turned pink. Add garlic and cook while gently stirring for about 30 seconds. Add lemon juice, wine, the remaining 2 tablespoons of butter and the pre-mixed spices and herbs. Stir together all ingredients together while cooking for an additional 1 minute.

Add noodles to skillet and toss gently to combine. Transfer to a serving dish. Top with grated Parmesan cheese if desired.
Other recipes you might like: