Sweet and Sour Halibut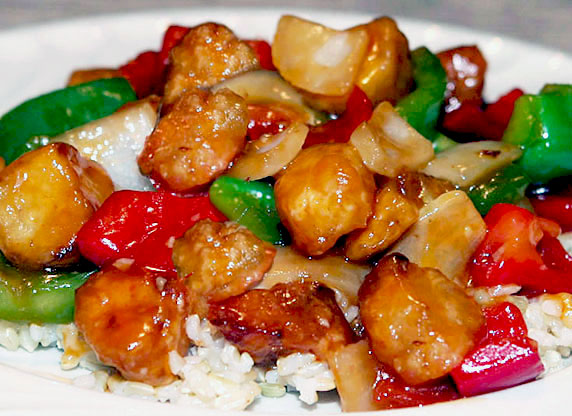 Suggestion:
Best served over rice.
Never thought of trying a stir-fry sweet and sour dish with fish? Think again!
This Sweet and Sour Halibut stir-fry recipe produces a very tasty stir-fry dish with a wonderful crisp and all the goodness of that sweet and sour flavor. The bites of halibut are tender on the inside and have a light crisp on the outside, which is created by a light coating of cornstarch. Sweet and sour fish is a nice change from the more common sweet and sour chicken recipes, because of the added tenderness of the fish. Chunks of green bell pepper and sweet red bell peppers, chopped onion and chopped tomatoes add the perfect compliment to this quick and easy stir-fry meal and add vibrant color. The sweet and sour sauce is easy to prepare, and you will likely already have all the ingredients in your kitchen and pantry. Sweet and Sour Halibut is delicious served over a bed of rice or all by itself.
Ingredients
Sweet & Sour Sauce

(recipe follows)
1/2 cup cornstarch (or more if needed)
2 pounds halibut fillets, cut into 1/2-inch squares
1 onion, cut into 1-inch cubes
1 clove garlic, minced
1 green bell pepper, seeded and cut into 1/2-inch strips
1 medium-sized tomato, cut into 1-inch cubes



Sweet & Sour Sauce

1 tablespoon cornstarch
1/4 cup sugar
2 tablespoons soy sauce
2 tablespoons ketchup
1/4 cup white vinegar
1/2 cup chicken broth
Directions
Whisk together all Sweet & Sour sauce ingredients and set aside.

Pour cornstarch in a paper bag, then add halibut pieces. Gently shake to coat, then remove halibut pieces and shake off any excess cornstarch. Place halibut pieces in a bowl near cooking area. Heat a wok or large skillet on high heat, then add oil. When oil is hot, turn heat to medium-high and add 1/2 of halibut pieces. Stir-fry until browned on all sides and halibut flakes when prodded with a fork (about 2-3 minutes). Transfer cooked halibut to a bowl or plate and cover with aluminum foil to keep warm. Add 2 tablespoons more of oil to wok or skillet, then cook other half of halibut pieces. Once second half of halibut is cooked, combine with other cooked halibut and recover with the aluminum foil to keep warm.

Increase heat to high, and add 2 tablespoons oil to wok or skillet. When oil is hot, add onion, garlic, green and red bell peppers and stir-fry until crisp-tender (about 2-3 minutes). Stir sweet and sour sauce, then pour into wok or skillet along with tomato pieces. Bring to a boil, stirring constantly (about 1 minute). Return halibut to wok or skillet, and stir to combine.

Serve by itself or with rice.
Other recipes you might like: