Shrimp Salad with Jicama and Carrot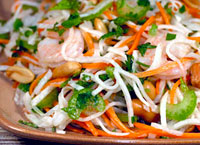 Tips:
May be made with chicken breast chunks instead of shrimp. If desired, you can increase shrimp (or chicken) to 1 lb. and increase peanuts to 1/2 cup.
Suggestion:
Delicious with a side of bread, such as Cheese & Garlic Breadsticks or Garlic Bread.
Ingredients
Salad

1 large jicama, peeled and julienned
1 large carrot, peeled and julienned
2 stalks celery, thinly sliced
1/4 cup chopped fresh mint leaves
1/4 cup chopped fresh cilantro
2 serrano chilies, seeds removed, then minced
1/2 - 1 lb. small deveined, cooked shrimp, tails removed
1/3 - 1/2 cup salted peanuts



Dressing

6 tablespoons freshly squeeze lime juice
2 tablespoons sugar
2 tablespoons Thai or Vietnamese fish sauce
Directions
After julienning jicama, place between a few folded paper towels and squeeze to remove excess moisture. In a large mixing bowl, combine jicama, carrot, celery, mint, cilantro, chiles, shrimp and peanuts. Toss to combine.

In a small mixing bowl, whisk together Dressing ingredients, then pour over salad ingredients and toss to thoroughly coat. Serve.