Coconut Crusted Chicken with Apricot Dipping Sauce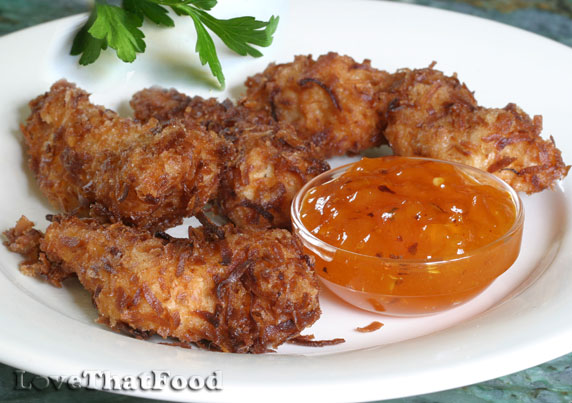 Yield:
8-12 appetizer or 4 entrée servings
Cook Time:
2-3 minutes per batch
Tips:
Prepackaged chicken breast strips or boneless skinless chicken breasts cut into appetizer size strips may be used.
Suggestion:
May be served as an appetizer or an entrée.
Whether served as a snack or an entée, fried chicken strips are very popular and can be made with quite a variety of coatings. One of the more basic forms of fried chicken strips is the type that are dipped in egg and/or milk (or a combination of both), then coated with a seasoned flour mixture just before they're fried, such as
Chicken Strips with Honey Mustard Sauce
. Chicken nuggets are similar to chicken strips, though are made into smaller shapes and sizes. Chicken nuggets can also be made with chicken that has been shredded or ground and mixed with other ingredients,
such as
Panko Chicken Nuggets
, which are coated with panko bread crumbs, creating a flaky crispy coating.
This recipe for Coconut Crusted Chicken with Apricot Dipping Sauce introduces a fun and unique way to prepare fried chicken strips. This chicken strips recipe features small strips of chicken breast that are lightly coated with corn starch, then dipped in frothy egg whites. The chicken strips are then rolled in flaked sweetened coconut and fried until golden and crispy, which takes only 2-3 minutes. The crispy coconut coated chicken strips are served with a mildly spicy apricot dipping sauce that's incredibly easy to whip up, made with apricot preserves, red pepper flakes and red wine vinegar.
To make these fried chicken strips, you can either purchase packaged chicken tenders (finger food size strips of uncooked chicken breast) or use skinless boneless chicken breasts and simply cut them into the strip sizes you prefer. If you're planning to make this chicken strips recipe for a party, you might want to make the strips that your guests will be able to consume in a two to three bites (about 2-3 inches long and 3/4-1 inch thick). You can also make these coconut crusted chicken strips as an entrée by making the strips a little larger, though keep in mind that they might take slightly longer to cook through.
Ingredients
Chicken

1/2 cup cornstarch
1 teaspoon cayenne pepper
3/4 teaspoon salt
1/2 teaspoon finely ground black pepper
3 large egg whites
2 cups sweetened shredded coconut
1 1/2 lbs. chicken strips (packaged pre-cut or cut from boneless skinless chicken breasts)
corn, canola or peanut oil for deep-frying



Apricot Dipping Sauce

1 tablespoon red wine vinegar
1 cup apricot preserves
1 teaspoon crushed red pepper flakes
Directions
Chicken
Place coconut in a shallow bowl and place near cooking area. In a separate shallow bowl, add cornstarch, cayenne pepper, salt and black pepper and stir or whisk until blended. Place cornstarch mixture next to bowl of coconut. In a separate medium
mixing bowl
, beat egg whites until frothy but not stiff. Place next to bowl of cornstarch.
If using boneless, skinless chicken breasts, cut into 2-3-inch-long by 3/4 to 1-inch wide strips. Dredge chicken pieces in the cornstarch mixture, then shake off excess. Dip chicken pieces in egg whites, then press into the coconut, turning to coat all sides. Place on a baking sheet near cooking area to have ready for frying.
Heat oil in a heavy skillet (oil should be about 2 inches deep) or a deep-fat-fryer to 350°F. Add coated chicken pieces to the hot oil in batches, allowing some space in between chicken pieces. Fry chicken, turning as necessary to brown all sides. Fry until cooked through (about 2-3 minutes per batch). Transfer to a paper towel-lined plate to drain. Serve hot with Apricot Dipping Sauce (recipe follows).
Apricot Dipping Sauce
Place all ingredients in a small bowl mix until well blended. Cover and store leftover sauce in the refrigerator.
Other recipes you might like: