Creamy Chicken Enchiladas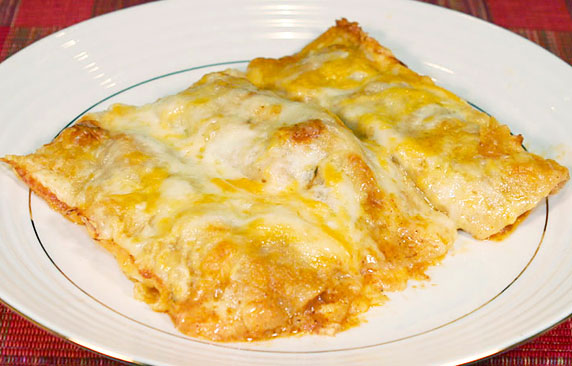 Yield:
12-14 enchiladas using corn tortillas, and about 9 enchiladas using flour tortillas
Cook Time:
About 20 minutes
Creamy Chicken Enchiladas have the festive flavor of traditional chicken enchiladas that combine tomato sauce, chili powder, oregano, onion and garlic, yet have creamier texture with the addition
of sour cream and a chicken-flavored cream sauce that's poured over the enchiladas just before baking. These enchiladas can be made with corn or flour tortillas, and are delicious either way. The above photo shows this recipe made with corn tortillas, which produce more enchiladas due to their smaller size.
These enchiladas aqre delicious on their own, but you can add even more zest to this dish simply by serving with garnishes of sour cream, guacamole, your favorite salsa, chopped jalapenos, hot pepper sauce, or any other garnish you enjoy.
This recipe is very easy to make and takes only about 20 minutes to bake, so you can have a delicious meal that serves 6-8 ready in a short time. Top these enchiladas off with a side of Spanish or any rice and a salad (Chipotle Ranch Salad Dressing works nicely on a green salad with this dish) and you're good to go!
Ingredients
1/3 cup instant minced onion flakes
1/3 cup water
6 tablespoons oil
2 1/2 tablespoons flour
1 8-oz. can tomato sauce
1 tablespoon chili powder
1/4 teaspoon oregano
1/4 teaspoon garlic powder
1/2 teaspoon salt
2 cups shredded cooked chicken breast
1 cup sour cream
corn or flour tortillas
1 cup half and half
1/2 cup chicken broth
1 cup shredded Monterey jack cheese
1 cup shredded cheddar cheese
Directions
Preheat oven to 350° F.

In a small bowl, mix onion with water and let stand 10 minutes. Heat 3 tablespoons oil in a medium saucepan. Add onion and cook on low for 4 minutes. Stir in 1 tablespoon flour and cook and stir until browned (about 3-4 minutes). Stir in tomato sauce, chili powder, oregano, garlic powder and salt. Simmer, uncovered for 10 minutes. Add chicken and sour cream and mix well. Remove from heat and set aside.

Heat remaining 3 tablespoons oil in a large skillet. Fry tortillas in oil, a few at a time, for about 2 minutes, turning once. Combine half and half and chicken broth in a medium saucepan and heat until warm. In a small bowl, make a paste using remaining 1 1/2 tablespoons flour and a small amount of half and half mixture. Stir paste into sauce in saucepan and cook, stirring constantly, until thickened.

Dip fried tortillas into cream mixture. Place a 9x14-inch casserole dish near sauce and filling. Prepare enchiladas one at a time: Dip tortillas into half and half sauce to coat and place on casserole dish. Spoon enchilada filling on tortillas (for corn tortillas, use bout 1/4 cup filling; for flour tortillas, use about 1/3 cup of filling). Roll tortillas and place seam side down in casserole dish. Pour remaining half and half sauce over enchiladas and sprinkle evenly over top with cheese.

Bake for 20 minutes until cheese is melted and bubbly.
Other recipes you might like: