Sandwiches
Traditionally, sandwiches are made with two or more slices of bread with one or more fillings placed in between. Though there are many types of bread and filler ingredients available to create a sandwich, that's only the beginning.
Sandwiches can be hot or cold and can be made with any type of bread, tortilla, pita bread, bun, roll or even baked in a homemade bread loaf. Some sandwiches are made without bread, using lettuce instead of bread to hold the ingredients, such as Lettuce Wraps. Sandwich recipes can include an endless choice of ingredients, including chicken or turkey, egg, tuna or other fish, ground beef, ground sausage, pork and more, or can be made entirely vegetarian style with no meat. Also in addition to the traditional sandwich, sandwiches can be served open faced or rolled up in tortillas (called "wraps") or other flat breads. Rolls can be hallowed-out and filled with any number of ingredients and topped with cheese. Below you will recipes for a variety of sandwich recipes. Stay tuned, as new delicious sandwich recipes will be added regularly.
Sandwich Recipes ▼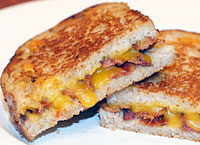 Crisp bacon and melted cheddar cheese are the key players in this mouth-watering grilled sourdough bread sandwich. This
Bacon Cheddar Melt sandwich
can be whipped up quickly and will not disappoint! The photo shows this sandwich made with whole grain sourdough bread, hickory smoked bacon and sharp cheddar cheese, but you can certainly customize this sandwich to your own heart's desire!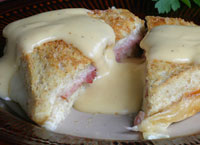 This
Baked Ham and Cheese Sandwiches recipe
takes ham and cheese sandwiches to a whole new level! Slices of your favorite type of bread (crusts removed) are stuffed with slices of ham and Swiss cheese, then placed in a baking pan. A seasoned milk mixture is poured over the top and the sandwiches are chilled in the frige, then baked until golden. A delicious cheddar cheese sauce is poured over the tops of the sandwiches.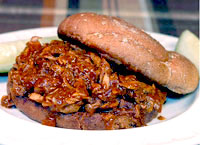 This
slow cooker BBQ Pork Sandwich recipe
will give you that delicious and distinct home-cooked flavor that can only be derived from combining all the right flavors and letting them simmer in your own kitchen - and with very little effort! All you need is a little ketchup, water, flavorings and spices, sliced pork (almost any cut will do) and some hamburger buns. This slow cooker recipe can also be made with chicken or beef.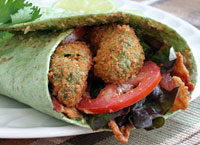 If you enjoy BLT sandwiches, you'll want to give these
BLT Wraps with Fried Avocado
a try! These BLT wraps feature flour tortillas coated with a tangy chipotle, lime spread mixed with fresh cilantro and finely chopped pepitas (pumpkin seeds), The wraps are then filled with crisp bacon, tomatoes, red leaf lettuce and crispy panko-coated and fried avocados. The crispy fried avocado slices and tangy spread add fabulous crunch and flavor!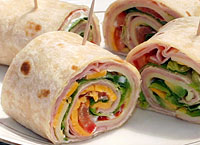 California Wraps
begin with a large flour tortilla coated with a delightful sour cream spread flavored with hints of dill and freshly squeezed lemon. Slices of turkey and ham, provolone and cheddar cheeses, ripe avocado, tomato and lettuce are then layered on top, and the tortilla is rolled up and sliced into individual servings, exposing the colorful swirl of ingredients inside. Can be served for lunch or as sandwich appetizers.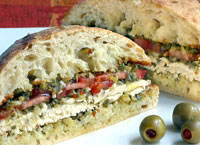 Chicken Panini Tapenade
has amazing flavors that are likely like no other chicken sandwich you have ever tasted! This
chicken panini recipe
features thin slices of roasted lemon and garlic-marinated chicken breasts and thinly sliced tomatoes in Italian-style rolls generously spread with a salsa made of finely chopped green olives, capers, garlic and lemon zest, combined with freshly squeezed lemon juice and olive oil.