Sandwiches
Traditionally, sandwiches are made with two or more slices of bread with one or more fillings placed in between. Though there are many types of bread and filler ingredients available to create a sandwich, that's only the beginning.
Sandwiches can be hot or cold and can be made with any type of bread, tortilla, pita bread, bun, roll or even baked in a homemade bread loaf. Some sandwiches are made without bread, using lettuce instead of bread to hold the ingredients, such as Lettuce Wraps. Sandwich recipes can include an endless choice of ingredients, including chicken or turkey, egg, tuna or other fish, ground beef, ground sausage, pork and more, or can be made entirely vegetarian style with no meat. Also in addition to the traditional sandwich, sandwiches can be served open faced or rolled up in tortillas (called "wraps") or other flat breads. Rolls can be hallowed-out and filled with any number of ingredients and topped with cheese. Below you will recipes for a variety of sandwich recipes. Stay tuned, as new delicious sandwich recipes will be added regularly.
Sandwich Recipes ▼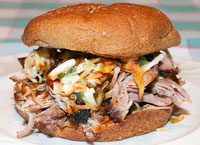 Pulled pork Sandwiches
have got to be one of the greatest sandwiches on the planet. Pork shoulder (also known as pork butt), is cooked slowly in the oven to produce a juicy and tender, pull-apart meat. The meat is then placed on a bun and topped with coleslaw and barbeque sauce. Any type of bun can be used with these pork sandwiches, and leftovers can be stored in the fridge for quick sandwiches the whole week long!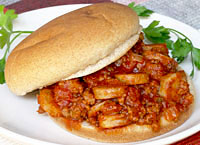 This
Smoky Sloppy Joes recipe
offers a great twist from traditional sloppy joes recipes! The "smoky" portion of this recipe is provided by the smoky sausage links. Ground beef is browned with some chopped onions, then combined with sliced smoky sausage. The beef and sausage mixture is simmered in afull-flavored sauce made wth canned tomatoes and tomato paste, seasoned with chili powder, a bay leaf and some salt and pepper.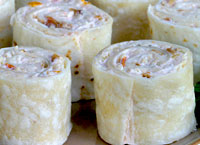 These
Southwest Chicken and Bacon Wraps
(also called roll ups) are super easy to make and have a fun and festive flavor that pleases all ages! Making these chicken and ba con wraps is a simple matter of mixing the ingredients (cream cheese, salsa, bacon and canned chicken breast) in a bowl, then spreading it onto some flour tortillas. Roll them up, stick them in the fridge until you're ready to serve them, then slice and serve!
If you're looking for a new and fun, quick and easy way to serve fish that everyone in the family will love, these
Tilapia Sliders
are the perfect answer! These
mini sandwiches
feature tasty little coated and fried Tilapia filets sandwiched between two soft Hawaiian style buns, together with slices of cheddar cheese, romaine lettuce leaves, tomato slices and a sweet and tangy homemade tartar sauce.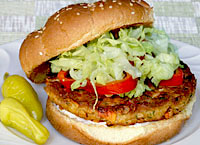 We're familiar with hamburgers, turkey burgers, tofu burgers and even crispy chicken sandwiches - but what about tuna?! This
Tuna Burger recipe
produces a tasty and colorful, light and healthy sandwich that is super easy to make. Spread a little mayonnaise and/or salsa on the buns, then top these Tuna Burgers with your choice of shredded lettuce, red bell pepper rings, tomato slices, avocado slices, guacamole and/or cheese!