Sandwiches
Traditionally, sandwiches are made with two or more slices of bread with one or more fillings placed in between. Though there are many types of bread and filler ingredients available to create a sandwich, that's only the beginning.
Sandwiches can be hot or cold and can be made with any type of bread, tortilla, pita bread, bun, roll or even baked in a homemade bread loaf. Some sandwiches are made without bread, using lettuce instead of bread to hold the ingredients, such as Lettuce Wraps. Sandwich recipes can include an endless choice of ingredients, including chicken or turkey, egg, tuna or other fish, ground beef, ground sausage, pork and more, or can be made entirely vegetarian style with no meat. Also in addition to the traditional sandwich, sandwiches can be served open faced or rolled up in tortillas (called "wraps") or other flat breads. Rolls can be hallowed-out and filled with any number of ingredients and topped with cheese. Below you will recipes for a variety of sandwich recipes. Stay tuned, as new delicious sandwich recipes will be added regularly.
Sandwich Recipes ▼
Golden Onion Burgers
are a fun twist to regular hamburgers, featuring patties made with ground beef, French fried onions, egg and seasonings. The patties are grilled and placed in rolls or thick slices of Italian, sourdough or other bread, then topped with sliced tomatoes and fresh green bell pepper rings. A homemade cheddar cheese sauce is drizzled over the top, along with a sprinkling of more French fried onions.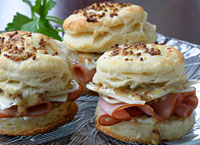 Sliders are always the perfect party food! These
Ham and Cheese Honey Mustard Sliders
and fun and simple yet quite elegant, and are extremely easy to whip up. These attractive and tasty little sandwiches feature flaky biscuits lightly spread with a butter and green onion mixture. The biscuits are,then filled with deli-sliced ham and swiss cheese, and are topped with a very tasty honey mustard sauce made with stone-ground mustard.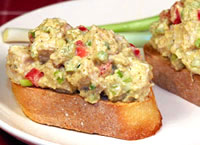 Hummus Chicken Salad
is wonderful on
crispy Baked Crostini
or soft mini slices of bread, and a wonderful twist to the traditional chicken salad. This chicken salad recipe is made with hummus rather than mayonnaise, giving it light and refreshing taste as well as healthful benefits. D iced celery, green onions and red bell pepper are also added into the mix, providing a fresh and tasty crunch!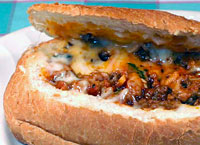 Lasagna Sandwiches
feature soft sandwich buns filled with a mixture of lean ground beef and ground pork sausage, seasoned with tomato sauce, herbs and spices and a blend of mozzarella, ricotta and Parmesan cheeses. The bun tops are cut off, the insides hollowed-out and the meat and cheese mixture is placed inside. Mozzarella cheese is sprinkled over the top, the bun tops replaced, then they're wrapped in foil and baked.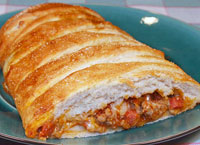 Ready to try the great flavors of pizza in a different form? This
Pizza Loaf recipe
features diced pepperoni, crumbled Italian sausage, grated mozzarella cheese and a generous helping of pizza sauce, all baked inside a fluffy easy-to-make pizza dough. This recipe makes a 14-inch-long loaf that is not only delicious, it looks impressive! You can also customize this loaf by using any variety of your favorite ingredients.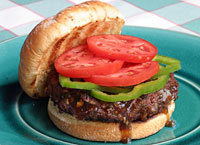 Polynesian Teriyaki Burgers
feature tender and juicy beef patties marinated in a flavorful teriyaki sauce that combines soy sauce, brown sugar, fresh ginger root and Worcestershire sauce. These burgers are drizzled with a homemade teriyaki sauce, then topped with thinly sliced fresh green bell pepper rings and tomato slices, which go perfectly with the Polynesian theme and add freshness and wonderful crunch.