Sandwiches
Traditionally, sandwiches are made with two or more slices of bread with one or more fillings placed in between. Though there are many types of bread and filler ingredients available to create a sandwich, that's only the beginning.
Sandwiches can be hot or cold and can be made with any type of bread, tortilla, pita bread, bun, roll or even baked in a homemade bread loaf. Some sandwiches are made without bread, using lettuce instead of bread to hold the ingredients, such as Lettuce Wraps. Sandwich recipes can include an endless choice of ingredients, including chicken or turkey, egg, tuna or other fish, ground beef, ground sausage, pork and more, or can be made entirely vegetarian style with no meat. Also in addition to the traditional sandwich, sandwiches can be served open faced or rolled up in tortillas (called "wraps") or other flat breads. Rolls can be hallowed-out and filled with any number of ingredients and topped with cheese. Below you will recipes for a variety of sandwich recipes. Stay tuned, as new delicious sandwich recipes will be added regularly.
Sandwich Recipes ▼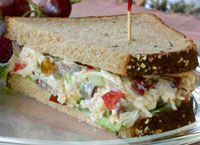 This
Chicken Salad Sandwich with Grapes recipe
has quite a bit more to offer than just grapes! Along with some chopped grapes, the chunks of chicken breast are also combined with diced celery, diced red bell pepper, diced onion and chopped pistachos (or other desired nuts), resulting in a refreshing chicken sandwich that not only has a fabulous combination of flavors, it has a vibrant assortment of colors!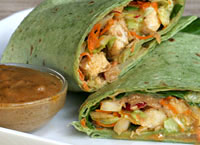 These
Chicken Wraps with Asian Peanut Sauce
are a combination of all we could ask for in a chicken wrap - healthy, colorful, delicious and easy! These chicken wraps are filled with a tangy marinated mixture of baby spinach, napa cabbage, sliced radishes and grated carrots, then are topped with strips of cooked chicken breast and a delicious homemade Asian peanut sauce that is also served on the side for dipping.
Chili Con Carne Loaf
is a simple and fun meal to make, yet presents itself with dramatic visual appeal. The filling is warm and tasty and the dough is fluffy with a slight outer crunch. This dish is much like a hot wrapped sandwich, and features a filling made with tender lean ground beef, tomato sauce, diced green chilies, onion, garlic flavoring and a generous helping of grated cheddar cheese above and below the meat filling.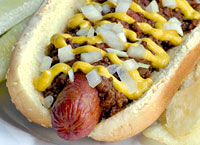 This
Coney Island Chili Dog recipe
takes a traditional hot dog and tops it with a chili recipe that is especially designed for topping hot dogs, including the use of a blender for a smoother consistency. Photo shows a quarter-pound all beef frank and a Coney style bun, but you can certainly use any size or type of frank and bun you prefer with this recipe. Believe it or not, this chili recipe also tastes served over spaghetti noodles!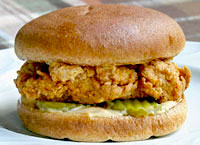 This
Crispy Chicken Sandwich
recipe features a seasoned chicken breast that has been dipped in an egg and milk wash then coated with a seasoned flour and cornmeal mixture. The coated chicken pieces are fried in oil to a crispy golden brown then placed in hamburger buns with hamburger dill pickle chips. The powerful ingredient is the smoky spread, which has the perfect blend of flavors that taste amazing with the chicken!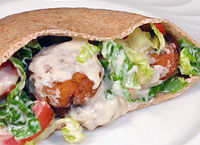 Falafels
are a Middle Eastern dish consisting of a pita-style bread filled with fried chickpea (garbanzo bean) patties (or balls) seasoned with herbs and spices, along with tomatoes, lettuce and sometimes pickled vegetables. Tahini sauce (a paste made from ground sesame seeds) is added to these sandwiches for moisture and great flavor. Falafels contain no meat, yet provide plentiful protein, complex carbohydrates.