Tuna Burger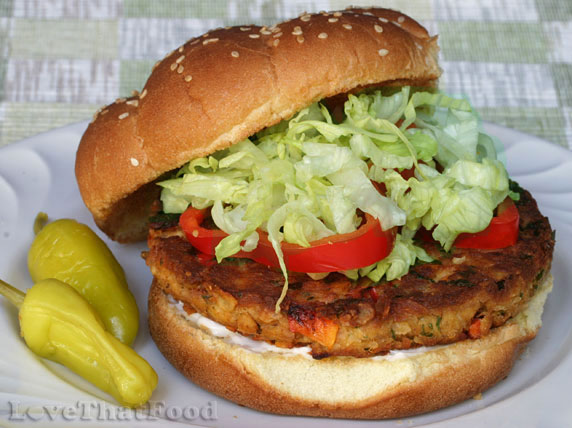 Yield:
3-4 servings, depending on size of patties
Tips:
To make forming tuna patties easier, cover and refrigerate until mixture is firm (30 minutes or more).
Suggestion:
Delicious served with
Four Bean Salad
and/or a
potato salad
. If desired, make available garnishes of mild pickled peppers, dill pickle slices and/or carrot sticks. Tuna Burgers may be topped with your choice of shredded lettuce, sweet red pepper rings, tomato slices, avocado slices and/or
guacamole
.
Isn't it great that hamburger patties aren't the only thing we can sandwich in between two hamburger buns? We're familiar with hamburgers, turkey burgers, tofu burgers and even
crispy chicken sandwiches
- but what about tuna?! This Tuna Burger recipe produces a tasty and colorful, light and healthy sandwich
that is super easy to make. It's just a matter of mixing a few ingredients with a couple cans of tuna, then forming the mixture into patties and frying them on the stovetop for less than 5 minutes. The tuna is mixed with some diced sweet red bell peppers, fresh chopped cilantro, lemon juice, a couple eggs, a little taco seasoning and some crushed tortilla chips. (Lime-flavored tortilla chips were used in the tuna burger shown above, but plain or any flavor of tortilla chips can be used. The tortilla chips you choose also work perfectly as an accompaniment to this sandwich.) These Tuna Burgers are great with some mayonnaise and/or salsa spread onto the buns, and can be topped with your choice of shredded lettuce, red or green bell pepper rings, tomato slices, avocado slices or guacamole and even cheese. Tuna Burgers are great for lunch or dinner, and are perfect as a last-minute meal!
Ingredients
2 7-oz. cans tuna, drained and flaked
2 large fresh eggs, lightly beaten
1/2 cup crushed tortilla chips
1/4 cup chopped fresh cilantro
1/4 cup diced red bell pepper
1 tablespoon freshly squeezed lemon juice
1 tablespoon packaged taco seasoning
1/4 cup oil for frying (or as needed)
4 hamburger buns, lightly toasted
1 cup shredded lettuce
1/4 cup mayonnaise (optional)
1/4 cup salsa (optional)
Directions
In a large mixing bowl, combine tuna, eggs, tortilla chips, cilantro, bell pepper, lemon juice and taco seasoning. Stir well with a fork, flaking large chunks of tuna as needed. Divide mixture evenly into 3 or 4 portions and form each into patties. (Note: Larger hamburger buns will usually require larger patties, resulting in 3 patties rather than 4.)

Heat oil in a large skillet over medium heat. When oil is hot, add tuna patties and saute for about 2 minutes on each side, or until patties turn golden brown.

Serve on tosted hamburger buns spread with mayonnaise and/or salsa, and top with our choice of shredded lettuce, red bell pepper rings, tomato slices, avocado slices, and/or guacamole.
Other recipes you might like: