BLT Wraps with Fried Avocado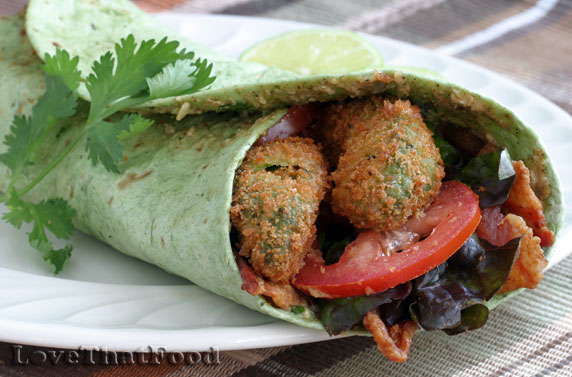 Cook Time:
About 10 minutes
Tips:
Any flavor of flour tortillas may be used, such as white, wheat, spinach, tomato, etc. 8-inch tortillas will make 6 wraps, while larger 11-inch "wrap" style tortillas will make 4 tortillas. You can add more or less of each ingredient as desired. Pepitas may be chopped manually with a knife or in a
mini chopper
for a few seconds.
Most of us have enjoyed the fabulous flavors a BLT (bacon, lettuce and tomato) sandwich can offer. There's something so basically delicious about combining some salty, crisp strips of bacon with ripe avocado and tomato slices along with some fresh leaves of lettuce in between two slices of bread, perhaps flavored with a little mayonnaise. If you are a lover of BLT sandwiches, you'll want to give these very tasty BLT Wraps with Fried Avocado a try!
Just like a traditional bacon, lettuce and tomato sandwich, these BLT wraps feature bacon, lettuce and tomato with a few refreshing changes. The bacon, lettuce and tomato slices are wrapped up in flour tortillas rather than bread, and rather than plain mayonnaise, a Chipotle Lime Spread made with mayonnaise, fresh chopped cilantro,
chipotle seasoning, lime juice and pepitas (green pumpkin seeds) is spread onto the tortillas, adding fabulous tangy flavor. (Tip: If desired, plain yogurt or sour cream can be used instead of the mayonnaise, though mayonnaise is recommended.) Last, but certainly not least, the avocado slices are coated with seasoned panko crumbs and fried until golden and crispy!
To make the crispy fried avocados, the avocado slices are first lightly coated with flour, then some beaten egg, then are coated with some seasoned panko crumbs and immersed into hot oil. In just 1-2 minutes, the panko coating turns golden brown and crispy, and the avocado slices are ready to remove and add to the wraps, giving the wraps a fabulous crispy texture!
You can make these wraps with plain flour tortillas (about 8 inches in diameter), wheat tortillas, whole grain tortillas, or any flavor of tortillas. You may also make these wraps using larger tortillas often labeled as "wraps," also coming in a variety of flavors. Keep in mind, however, if you use the larger wrap-style tortillas (usually about 11 inches in diameter), you will need to add a few more of the ingredients to each wrap, resulting in 4 wraps rather than 6. Which size wrap you choose all depends on the size of your appetite! BLT Wraps with Fried Avocado are wonderful for lunch or dinner, and will pleasantly surprise you.
Ingredients
Chipotle Lime Spread

1/4 cup toasted pepitas, finely chopped (a mini chopper may be used)
1 teaspoon chipotle seasoning
2 tablespoons fresh cilantro leaves, chopped
1 tablespoon freshly squeezed lime juice
1/2 cup mayonnaise (plain yogurt or sour cream may be used instead, if desired)
salt to taste



Fried Avocados

3 avocados, peeled and cut into eight slices
all purpose flour (about 1/2 cup or as needed), seasoned with salt and pepper
1 egg, beaten
juice of 2 limes
2 cups panko crumbs
1 teaspoon dried crumbled cilantro leaves
oil for frying (such as vegetable)



Wraps

6 8-inch flour tortillas or 4 11-inch tortilla "wraps" (any flavor)
12 slices thick-cut bacon, cooked until crisp
6 leaves red-leaf lettuce, rinsed and patted dry with paper towels
6-12 slices tomato (use as desired)
Directions
Chipotle Lime Spread
In a small
mixing bowl
combine chopped peptias, chipotle seasoning and chopped cilantro. Add mayonnaise and lime juice and whisk together until blended. Salt to taste. Cover and place in refrigerator to chill while preparing wraps.
Fried Avocados
In a deep fryer or deep pot, add about 1 inch of oil. Heat oil to 375°F. While oil is heating, prepare avocado slices for frying:
Combine dried cilantro with panko crumbs in a shallow bowl near cooking area (deep fryer or stove, whichever method you prefer). Place beaten egg in a shallow bowl next to the bowl of panko crumbs, farther away from cooking area. Lastly, place the bowl of flour next to the bowl of egg, farthest from the cooking area.
Using 4 slices of avocado at a time, dredge in flour, then coat with beaten egg. Roll avocado slices in panko until evenly coated, then gently immerse into hot oil. Fry avocado until golden (about 1-2 minutes). Drain on a few stacked paper towels.
Wraps
Spread Chipotle Lime Spread onto each tortilla, then place 2 strips of bacon (3 strips if using 11-inch wraps), lettuce, tomato (1-3 slices or as desired), then 4 fried avocado slices (6 slices of using 11-inch wraps). Roll up tortillas around ingredients. If desired, use toothpicks to hold wraps in a closed position.
Other recipes you might like: