BBQ Pork Sandwich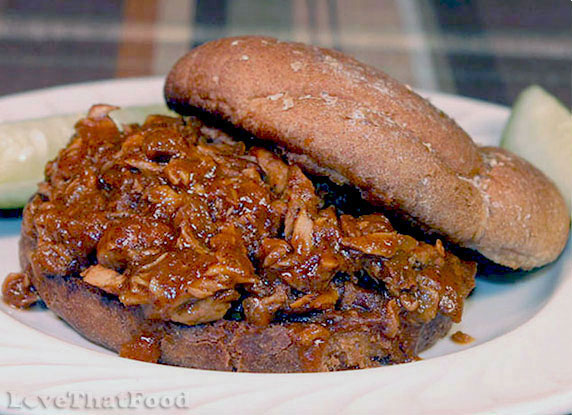 Tips:
Chicken or beef can be used instead of pork, if desired.
The only way this slow-cooker barbecue pork sandwich recipe could be easier is if you make it with a bottle of prepared barbecue sauce - but that won't guarantee that authentic homemade flavor! While I have your attention, I must tell you this slow cooker BBQ Pork Sandwich recipe is not only very easy, it will give you that delicious and distinct home-cooked flavor that can only be derived from combining all the right flavors and letting them simmer in your own kitchen. All you
need is a little ketchup, water, flavorings and spices, sliced pork and some hamburger buns, French rolls or even toasted bread, and you're good to go! Just add the sauce ingredients and sliced pork to your slow cooker, and walk away until dinner is ready!
Because most meats become tender when cooked in a slow-cooker, you can use your favorite cut of pork for this recipe. Pork shoulder or butt works very well, but you can use any other cuts as well (photo shows this pork sandwich made with sliced pork loin). This comes in handy if you have any leftover pork or pork that's been in your freezer longer than you can recall. (This recipe can also be made with chicken or beef.) As for the bread, you can use soft buns (any style), toasted buns or even spread a little butter on the buns before broiling for added flavor. Of course, the beauty of slow-cooked meals is that no stirring is required, and when dinner is ready, you get to sit down to a tasty meal, feeling like someone else has prepared it for you. This BBQ Pork Sandwich recipe is terrific with a side of potato salad, potato chips, baked beans, corn on the cob, dill pickle slices and the list goes on.
Ingredients
2 cups thinly sliced cooked pork (or beef), fat trimmed off
2 tablespoons instant minced onion
1 tablespoon brown sugar
2 teaspoons paprika
1 teaspoon ground oregano
1 teaspoon chili powder
1/4 teaspoon black pepper
1/2 teaspoon salt
1 bay leaf
1 clove garlic, minced
1 cup ketchup
1/4 cup water
1 tablespoon oil
1/4 cup tarragon vinegar (or apple cider vinegar if you don't have tarragon vinegar)
2 tablespoons Worcestershire sauce
2-3 drops liquid smoke
Directions
In a medium mixing bowl, combine all ingredients except pork. Set aside. Place sliced pork in slow cooker, then pour sauce mixture over pork. Stir briefly to combine. Cook on low setting for 4-6 hours. When ready to serve, remove bay leaf and serve with hamburger buns, French rolls or toasted bread slices.
Other recipes you might like: