Baked Ham and Cheese Sandwiches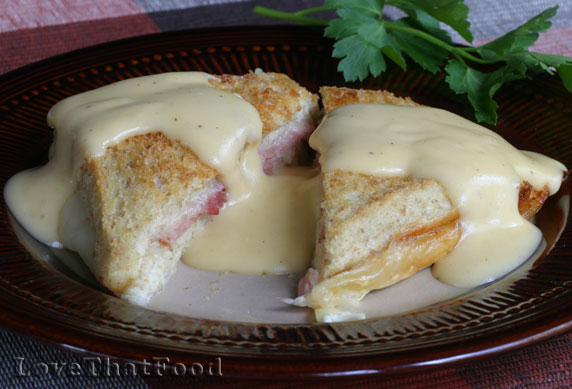 Tips:
Any type of sandwich style bread may be used. If using thinly sliced ham, use 3-4 slices (or more, if desired). Thickness of ham should be at least 1/8-inch (unless you prefer a little more), so use as many slices as needed to achieve desired thickness. If using Swiss cheese sliced from a block, simply use as many 1/8-inch slices as necessary to cover bread slices.
Suggestion:
Serve for lunch or dinner.
This Baked Ham and Cheese Sandwiches recipe takes ham and cheese sandwiches to a whole new level, and is super easy to make! This unique ham and cheese recipe begins very simply with slices of your favorite type of bread (with the crusts removed). Slices of ham and Swiss cheese are placed in between the slices of bread and the sandwiches are placed in a baking pan. A seasoned egg and milk mixture is poured over the sandwiches, and they're placed in the fridge overnight. The chilled sandwiches
are then baked until golden and crisp on top, then are served with a delicious sharp cheddar cheese sauce drizzled over the top. Whether you make them for brunch, lunch or dinner, these Baked Ham and Cheese Sandwiches are very tasty and a great way to satisfy hungry appetites!
Deli style sandwich sliced ham comes in various thicknesses. You can adjust the amount of ham slices to your own preference. If the slices are thick enough, you can use as little as one slice of ham. If you use the very thinly sliced deli style ham, you'll probably want to use at least 3-5 slices (or a few more, if desired). It's totally up to you.
Of course, any type of sandwich bread can be used with this recipe. Basically, whatever type of bread you'd enjoy for a typical ham and cheese sandwich will work (including sour dough, rye, whole grain, etc.) To help you give you an inside peek at these sandwiches, the photo above shows the ham and cheese sandwich sliced in half diagonally; though you can also serve these sandwiches in one piece, unsliced.
Ingredients
Sandwiches

16 slices bread, crusts removed
8 slices ham (or more as needed if using very thin slices)
8 sandwich slices swiss cheese (or as many as needed if cutting from a block of cheese)
4 eggs
3 cups milk
dash dry mustard
dash salt



Cheese Sauce

1/4 cup butter
1/4 cup flour
1/2 teaspoon salt
1/4 teaspoon pepper
1/2teaspoon dry mustard
2 cups milk
1 cup sharp cheddar cheese
Directions
Sandwiches
Arrange bread slices on a plate and leave out to dry (may take 1 or more hours). Once dry, place 8 slices of bread in a buttered 9x12-inch baking dish. Top each bread slice a slice of ham (or at least 3 slices if using very thinly sliced ham), a slice of cheese (or enough slices to cover ham if slicing from a block of cheese), then top with another slice of bread.
In a small
mixing bowl
, whisk together eggs, milk, dry mustard, and salt. Pour mixture over sandwiches and cover with plastic wrap. Refrigerate overnight. Bake at 325°F for 1 hour or until golden brown. Serve topped with Cheese Sauce (recipe follows). (Tip: For leftovers, store sauce separately. When reheating sandwiches, turn sandwiches over with a spatula to expose the more moist slices of bread and bake at 350° F for about 10 minutes or until hot.)
Cheese Sauce
In a heavy saucepan, melt butter over low heat. In a small
mixing bowl
, whisk together flour, salt, pepper and dry mustard. Stir mixture into melted butter and cook over low heat, stirring until mixture is smooth and bubbly. Remove from heat, then whisk in milk. Return to heat and bring to a boil, stirring constantly, being careful not to scald milk. Boil for 1 minute, then add cheddar cheese and stir again until cheese is melted.
Other recipes you might like: