Pasta
Pasta dishes are amazingly versatile. Not only is there a huge variety of pasta shapes and flavors (such as whole grain, spinach, tomato, etc.) to use as a base for your favorite dish,
you can decorate your pasta with a variety of meats or fish, cheeses, sauces, vegetables, herbs, and almost anything imaginable.
Below you will find pasta recipes that include dishes made with chicken, ground beef, pork and shrimp as well as cheese, pepper sauces, pesto sauce, creamy fettuccine sauce, curry sauce and delicious pasta salads.
If you are creative, you can take your love for pasta to a new level by creating your own homemade pasta with a pasta machine (also called pasta maker). Many electric mixers now offer a pasta-making attachment, which makes it even easier to make your own pasta. Whether you enjoy meat or are a vegetarian or vegan, pasta dishes will always offer an endless amount of delicious choices.
Pasta Recipes ▼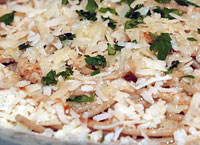 Spaghetti without the sauce? Absolutely! This easy and delicious cheese pasta dish entertains a blend of three tangy cheeses (Kasseri, Parmesan and Romano) that are grated and sprinkled over al dente pasta. The pasta is then drizzled with lightly browned melted butter and topped with fresh chopped parsley.
Three-Cheese Spaghetti
is a wonderful alternative to traditional spaghetti dishes!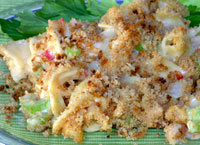 Tuna Noodle Casserole
is the perfect dish when you're short on time or simply too tired to to spend much time in the kitchen, yet want a meal with great taste. This tuna casserole recipe calls for a can of cream of celery soup, which saves you quite a bit of preparation time. This creamy, cheesy dish combines canned tuna, noodles of your choice, shredded cheddar cheese, sliced celery, sliced onion, pimiento, and of course, the tasty sauce.