Pasta
Pasta dishes are amazingly versatile. Not only is there a huge variety of pasta shapes and flavors (such as whole grain, spinach, tomato, etc.) to use as a base for your favorite dish,
you can decorate your pasta with a variety of meats or fish, cheeses, sauces, vegetables, herbs, and almost anything imaginable.
Below you will find pasta recipes that include dishes made with chicken, ground beef, pork and shrimp as well as cheese, pepper sauces, pesto sauce, creamy fettuccine sauce, curry sauce and delicious pasta salads.
If you are creative, you can take your love for pasta to a new level by creating your own homemade pasta with a pasta machine (also called pasta maker). Many electric mixers now offer a pasta-making attachment, which makes it even easier to make your own pasta. Whether you enjoy meat or are a vegetarian or vegan, pasta dishes will always offer an endless amount of delicious choices.
Pasta Recipes ▼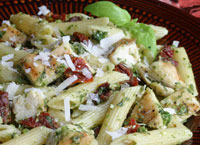 If you're looking for healthy chicken pasta recipes,
Pesto Penne with Grilled Chicken and Sun-Dried Tomatoes
certainly delivers! This light and fresh penne pasta recipe features cooked penne pasta, grilled chicken, homemade pesto and chopped sun-dried tomatoes. These tasty ingredients are tossed together, and once dished onto serving plates, are topped with freshly grated Parmesan cheese.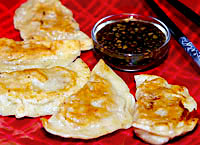 Pork Pot Stickers with Dipping Sauce
, also referred to as Jiaozi or Chinese dumplings, is a fun and tasty Asian dish that is wonderful served as a main dish or as an appetizer. This pot sticker recipe consists of a delicious mixture of ground pork and vegetables wrapped up in small pasta shapes and is served with a delicious dipping sauce that adds just the right flavor and boost for this Asian dish.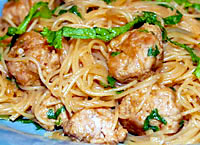 Rice Noodles with Pork and Peanut Sauce
is a fun, quick and easy and very tasty pasta dish that all ages will enjoy! Bite-size chunks of tender and lean browned ground pork are tossed with rice noodles along with some thinly sliced onions and mustard greens, then blended with a very flavorful peanut sauce made with soy sauce, chicken broth, peanut butter, hoisin sauce and a small amount of sugar.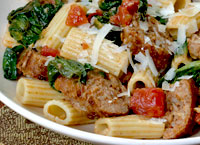 This
Rigatoni Barese with Spinach and Basil recipe
entertains a fabulous blend of flavors, and takes very little preparation! This light, hearty and healthy pasta and Italian sausage dish features rigatoni pasta, chunks of Barese sausage (Italian sausage), fresh torn spinach and fresh basil leaves cooked with stewed tomatoes and minced garlic. Topped with shaved or shredded Parmesan cheese, this flavorful pasta dish delivers!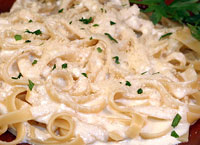 This
Sour Cream Fettuccine recipe
begins with the popular Fettuccine Alfredo ingredients of heavy cream (whipping cream), butter and Parmesan, and adds a generous amount of sour cream, giving it a slightly thicker consistency and added flavor. You can add one or more other tasty ingredients to this rich and creamy pasta dish, such as chicken, broccoli, shrimp and/or artichoke hearts.
This is no ordinary plate of
Spaghetti and Meatballs
! The flavors in the marinara alone are marvelous, and the meatballs are tender with a wonderful blend of ingredients that take this spaghetti recipe over the top! Taking a little extra time to let this homemade marinara sauce simmer in your kitchen rather than grabbing a jar or two of pasta sauce from the store is well worth the effort! This spaghetti dish is also fabulous reheated!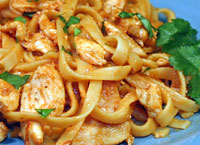 This
easy chicken recipe
features thin slices of chicken breast and fettuccine noodles tossed with a sauce made with peanut butter, honey, picante sauce (or other salsa), orange juice, soy sauce and ginger. The beauty of this Thai Chicken Fettuccine recipe is that you can make it mild or spice it us by adding some Chili Garlic Sauce, or by choosing medium or spicy picante sauce (or other salsa).